Remembering Gabriel and the enslaved
George C. Copeland Jr. | 10/14/2021, 6 p.m.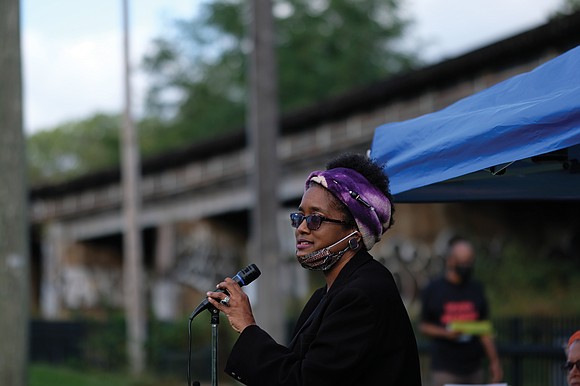 More than 220 years after Gabriel planned a rebellion against his enslavers in Henrico in 1800, more than 80 people gathered at the site in Shockoe Bottom where he was executed and where roughly 22,000 other African-Americans of that time are buried.
The 19th Annual Gabriel Gathering, held Sunday evening at the African Burial Ground near 15th and Broad streets, memorialized the 221st anniversary of Gabriel's execution at the city's gallows on Oct. 10, 1800, and recognized the work done so far in the fight for justice and equality and the challenges ahead.
"Everything was done so that I could have a more peaceful life, not completely equal, but a more equal life," said Pamela Bingham, a direct descendant of Gabriel and the family historian.
"I realized as a beneficiary of that movement, and as a descendant of Gabriel that there is so much work still to be done because we are not all free."
The Gabriel Gathering was started in 2003 by the Sacred Ground Historical Reclamation Project of the Virginia Defenders for Freedom, Justice and Equality. It has worked to draw attention to the overlooked site and its history in a city where the site's commercial potential seemed of more importance. The acreage, a critical place in America's domestic slave trade, also included slave jails where enslaved people were bought and sold for decades. It also now an important point on the Richmond Slave Trail in telling and understanding the city's history.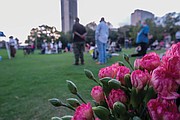 The Sacred Ground Historical Reclamation Project's efforts have seen the grounds transformed into a manicured field, with plans for the city to invest $53.5 million in the next few years to create a slavery memorial museum and park.
However, from the event's speakers, it was clear more must be done to ensure the protection of these sites in Richmond.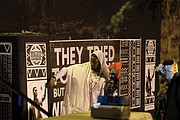 "We want commemorative justice. We need justice not only for us here, but our elders, our ancestors," said Christopher Rasheed Green, a representative for the East Marshall Street Well Project Family Representative Council. "We can only go forward if we know where we came from. We have to learn from the past, and we have to stand up and reclaim what's ours."
The solutions shared by the speakers ran the gamut, from ensuring Shockoe Bottom and other nearby burial grounds are turned into memorial parks to pushing back against the unkempt conditions at historic Black East End and Evergreen cemeteries and attempts to close them to the larger community.
As discussed by J. Ron and Jarene Fleming, members of the cemeteries' Descendants Council of Greater Richmond, East End and Evergreen cemeteries and other burial grounds, like Shockoe Bottom, would need the support of the community to ensure they are managed for the public good and to stand against moneyed interests and corporate-minded redevelopment.
"Richmond's African-American cemeteries should be transformative sites of engagement, truth-telling places to learn history and build community," Mr. Fleming said, "not places that perpetuate a legacy of paternalism and exclusion."
Some movement has been taken by the city government, including the purchase in April of the historic Shockoe Hill Burial Ground, with plans to make it part of the Richmond Slave Trail. But speakers said an active and engaged Richmond community is needed to make sure these sites are properly reclaimed, that those interred are honored and remembered and that their history is fully told.
"They can deny critical race theory in schools," Ms. Bingham said, "but we can all still speak here, in our home, in our neighborhoods, in our churches, our businesses, our community and other institutions about what has happened here in Richmond.
"We can never forget the Black Holocaust," she continued. "We can never forget the Middle Passage. We cannot forget any of it."