Poet Claudia Rankine talks about CRT and microaggressions at UR forum
Kathryn I. Kimmel | 10/21/2021, noon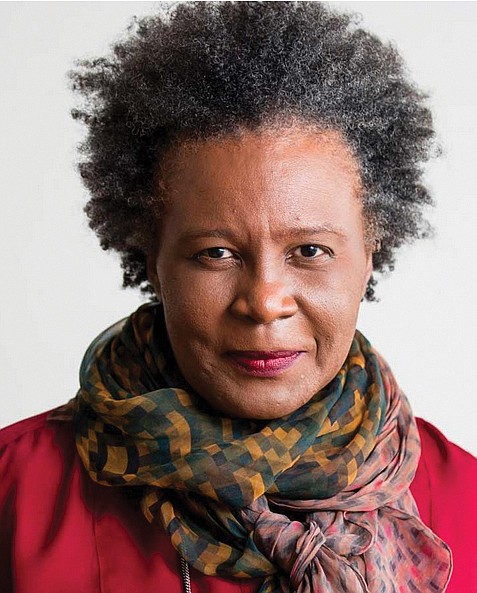 Acclaimed poet and author Claudia Rankine emphasized the importance of critical race theory and the impact of micro-aggressions in her recent keynote address to the Weinstein-Rosenthal Forum on Faith, Ethics & Global Society at the University of Richmond.
"The suppression of critical race theory is the suppression of information around this country that shows its true investment in white nationalism," Ms. Rankine told an audience of nearly 200 people at the forum held Sept. 29 at the Modlin Center's Camp Concert Hall on campus.
Ms. Rankine's address, "The Making of Citizen: What It Means to Be an American Citizen in 'Post-racial' Society," touched on many themes included in her 2014 book, "Citizen: An American Lyric." The award-winning book features a collection of essays, lyrical poems and visual artwork that collectively created a portrait of race relations in the United States.
"It sadly stays relevant," Ms. Rankine said about her book, which spotlights racial aggressions big and small, intentional and unintentional.
Ms. Rankine read from several poems from "Citizen," noting many were inspired by her own experiences. As she poke, images were projected on a screen. One, a photograph, showed a Ku Klux Klan parade in Washington in 1926. Ms. Rankine criticized American school systems for not teaching about the photograph, along with other iconic historical images.
"The move against critical race theory is really a move for the suppression of images like this, which is American history," Ms. Rankine said.
She also talked about the effects that micro-aggressions—thinly veiled, everyday interactions or behaviors that communicate some sort of bias toward historically marginalized groups—can have on people of color. She said the accumulation of micro-aggressions takes a serious and harmful toll on a person.
"There is a difference between an utterance and a gunshot.
A bullet kills quickly; the other does so over a lifetime," Ms. Rankine said.
Kevon Thompson, a junior at UR, said Ms. Rankine's talk "put into words experiences that I've had but didn't know how to describe myself. It didn't feel like new information, but I think this will help me become more self-aware of future interactions that I have."
In a question-and-answer session following the address, junior Alexis Cobbs asked Ms. Rankine how the UR community, now in the middle of a "racial reckoning," can make the campus a better place for future students.
When things are important to community members, Ms. Rankine responded, those individuals must persist. She said that there is no place for cynicism in the current conversation.
"I don't know how to end what doesn't have an ending," she said about the irony of giving her book a conclusion while the racial aggressions it analyzes are ongoing.
Magnolia Kaylee, a UR senior, said Ms. Rankine's talk "had a large impact on me because I'm writing my thesis about identity and agency. I was struck by the idea that our identities have such a serious impact on how people perceive us."
Ms. Rankine, winner of a MacArthur "genius grant" in 2016, is the recipient of the Bobbitt National Prize for Poetry and the Poets & Writers' Jackson Poetry Prize, among others awards.
The annual Weinstein-Rosenthal Forum "attracts extraordinary speakers who address the large themes of faith, ethics and global society," said Dr. Craig Kocher, university chaplain.