Armstrong High, wearing throwback jerseys for Armstrong-Kennedy, blitzes John Marshall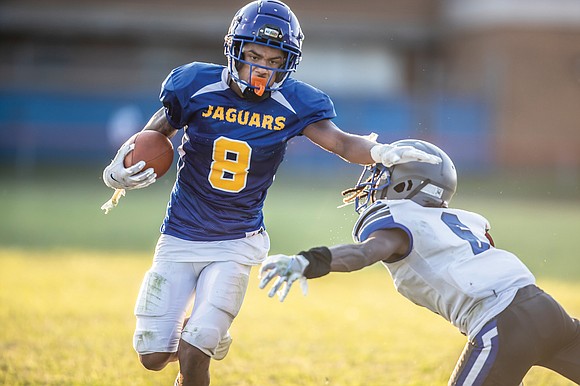 A change of nickname and change of uniforms may have helped change the luck of Armstrong High School's football team—at least for one night.
In what first-year Coach Jeremy Pruitt billed "Throwback Night," Armstrong pounded visiting John Marshall High School 68-0 on Sept. 10.
Armstrong, normally the Wildcats with blue and orange uniforms, wore special blue and gold uniforms with the nickname "Jaguars" on the jerseys.
The Jaguars scored 10 touchdowns in the rout, with Kile Artis pacing a relentless offense with 207 rushing yards and a pair of touchdowns.
The team's long list of standouts also included Kemari Eberhardt, Leonte Ouahi, Dayvon Palmer and Ziquon Irving.
"We had a great week of practice and the kids really wanted it," Coach Pruitt said. "We came out of the gate and ran the ball very hard. We broke tackles. We did everything."
It was Armstrong's first victory since Oct. 4, 2019, when they defeated Park View High School in Sterling, Va., 47-18. Armstrong opted out of the 2020 season because of the pandemic.
There was little to indicate the East End school was primed for a rousing performance. Earlier this season, Armstrong lost 7-0 to Thomas Jefferson High School and 41-6 to Petersburg High School.
"We're a young team building a program brick by brick," said Coach Pruitt, a former All-CIAA linebacker at Virginia State University who previously served as an assistant coach at Armstrong.
Now about that nickname and uniform switch: The new jerseys were donated to Armstrong by alumni of both Armstrong and the former John F. Kennedy High School, Coach Pruitt said.
Some history: Blue and gold were the colors of the Armstrong-Kennedy complex, when the two schools were combined from 1980 to 1986 and their team became the Armstrong-Kennedy Jaguars.
After that, they became separate schools again, but in 2004, Armstrong and Kennedy, known as the Kougars, merged again, with the city keeping the Armstrong name (the school had had that name since 1909) and mascot — the Wildcats — but moving to the newer Kennedy building on Cool Lane, which opened in September 1968.
In addition to the game, there were various other activities last Friday celebrating the combined histories of the school. There were numerous vendors for Armstrong-Kennedy Alumni Night. Unveiled was an "A-K Skybox" atop the school, providing a bird's-eye view of the action.
The A-K Jaguars jerseys, which had been kept secretly in storage, were used for the first time in the game against John Marshall High.
Whether or not Armstrong sticks with the undefeated Jaguars jerseys might be kept secret.
"It's probably a one-night deal," Coach Pruitt said. "But we'll definitely bring them back next year for the A-K Alumni Day."
Next up for the "Wildcats/ Jaguars" is a home date 7 p.m. Friday, Sept. 17, against Class 2 powerhouse the Goochland Bulldogs.