Personality: Sharon S. Jennings
Spotlight on Virginia State Coach of GirlTrek
4/14/2022, 6 p.m.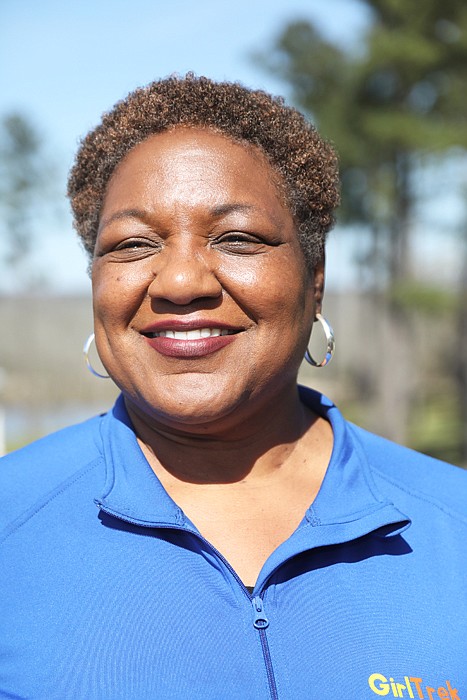 For the last six years, Sharon Simmons Jennings has helped put pep in the step of women throughout Richmond.
The Henrico resident founded the Richmond Chapter of GirlTrek in 2016, and in the years since, has worked to ensure a welcoming and motivating atmosphere for the group, its many members and the many walking trips they take throughout Richmond and elsewhere.
GirlTrek calls itself a "health revolution for Black women," with walking becoming the pathway to self-care, healing and transforming Black lives.
Since the nonprofit began in Washington in 2010 with two friends, T. Morgan Dixon and Vanessa Garrison, it has grown to more than 1 million members who commit to walking daily. Energized by that daily movement, the women talk, organize and shift to policy changes by mobilizing members to support advocacy efforts and bolster families and communities.
The benefits are many, from improving personal health to inspiring daughters and reclaiming communities, according to organizers.
"GirlTrek is a truly a life-saving sisterhood," Ms. Jen- nings says. "We join together to enjoy fun, fellowship and fitness, whether it's walking every Saturday, going to brunch or supporting our sisters through life events."
The physical and mental rewards of GirlTrek Richmond's work are a big part of its appeal for Ms. Jennings, who cites walking as a key benefit during her weight loss and battle with cancer.
"As you walk, you strengthen your mind, body and soul," Ms. Jennings says. "You allow yourself to be free."
Ms. Jennings first became involved with GirlTrek at the urging of her daughter, who was walking with GirlTrek while pursuing a law degree in Washington, D.C. She was so inspired, that she started the group in Richmond, which now has more than 800 members. There are several active chapters in Metro Richmond, as well as chapters in other Virginia locales.
As a volunteer leader, Ms.Jennings leads walks in Richmond and elsewhere. GirlTrek members also participate as walkers in other local events, such as the Ukrop's Monument Avenue 10K, the annual Walk for Autism and the Richmond Marathon.
As GirlTrek's Virginia State Coach, Ms. Jennings' major focus is to present walking opportunities for women in need of a way to unwind and prioritize their well-being. She also works to help them develop their walking abilities through fun and interesting locations that encourage participants to "go beyond what they thought they could do."
"Each day someone needing to walk and talk comes along," Ms. Jennings says. "We walk each other through grief, sickness, pains from taking care of elderly parents and the pressures of life.
"If one lady says 'I need to walk,' then you can be assured that we meet her to walk."
Meet a leader making better health a walk in the park and this week's Personality, Sharon Simmons Jennings:
No. 1 volunteer position: GirlTrek Virginia State Coach.
Occupation: Project manager.
Date and place of birth: June 13 in Richmond.
Where I live now: Henrico County.
Education: Human resource degree, by way of virtual classes while in the U.S. Air Force.
Family: Daughter, Sharita, and sister, Gilda, both members of GirlTrek.
GirlTrek is: A lifestyle change to heal our bodies, inspire our daughters and reclaim the streets of our neighborhoods. It actually helped save me during my weight loss journey and during my fight with cancer.
Mission of GirlTrek: To unleash a mass movement for health justice.
Founders: GirlTrek started with our founders, T. Morgan Dixon and Vanessa Garrison in 2010 in Washington, D.C.
Why GirlTrek is more than just a walking club for Black women: GirlTrek is a truly a life-saving sisterhood. We join together to enjoy fun, fellow- ship and fitness, whether it's walking every Saturday, going to brunch or supporting our sisters through life events. And GirlTrek is not just in Richmond. There are more than 1 million women walking with GirlTrek around the country and even in Ghana.
GirlTrek gets its inspiration from: We are inspired and led by the shadow of Harriet Tubman. Like Harriet, we may have to walk alone ... to quicken change or to slow down demands, to listen to our own heartbeats or to release to the sky. And when we find that kind of strength — to hope — to take that solo walk — to step out of on faith toward our healthiest, most fulfilled lives, the mission then becomes deeply personal — to come back and get a sister. GirlTrek is a life-saving sisterhood.
Number of national chapters: GirlTrek has active walkers in more than 2,500 cities.
When the Virginia group was established: I cannot say for sure, but I started the Richmond Chapter in 2016.
Where Virginia GirlTrek chapters are located: We have groups in Central Richmond; West End Richmond; South of the James; Hampton; Norfolk; and Stafford.
How GirlTrek works for participants: It works, as the numbers speak for themselves:
● 61 percent of Black women lost weight.
● 90 percent experienced fewer symptoms of depression.
● 28 percent were prescribed less medication than previous years.
● 59 percent walk daily at life-saving levels. According to the federal Centers for Disease Control and Prevention, that is walking 30 minutes a day five days per week.
● 56 percent have sustained a habit of daily walking for more than one year.
Typical GirlTrek outing: On Superhero Saturdays, we meet and greet and take in the beautiful scenery of Richmond. Our favorite trek is walking across the beautiful James River. Typical walks are 5 to 6 miles. But we leave no one behind. If someone comes to walk, we let them set the distance and pace.
How I connected with GirlTrek and became a leader: My daughter, Sharita, started walking with GirlTrek in D.C. while in law school. She asked me to come out and meet the ladies. I fell in love with the sisterhood and fellowship. I then decided to put on the GirlTrek Superhero Blue shirt here in Richmond and surely others just joined in. We have more than 893 members here in Richmond alone.
No. 1 goal or project as the Virginia leader: My goal is simply to present an opportunity to walk for someone who needs to let go and unwind and put herself first.
Strategy for achieving goals: Keeping the walks fun and interesting. Some of our trekkers never thought they'd be hiking and climbing mountains. My goal is to help others go beyond what they thought they could do and then watch them celebrate when they reach that goal.
My walking shoes are: Ons or ASICS.
My daily walking goal: To reach 15,000 steps, which equals 6 miles daily.
GirlTrek partners with: Columbia Sportswear, Let's Move, the NAACP and the National Park Service, to name a few.
How to get involved with GirlTrek: Visit the website www.girltrek.org and take the pledge to walk. Ask to join our Facebook page, Girltrek: Richmond, VA.
A perfect day for me: Walking along the James River during sunrise or sunset and exhaling.
What I am learning about myself during the pandemic: That Richmond has so much beauty you cannot see while driving in a car. It is a whole different, beautiful site when you walk. Trying new things, hiking, rock climbing, we can do it all.
When I walk, I think about: Those who cannot walk. I think about my blessings and I talk to my mom and sister who are no longer with me.
Person who inspires me to walk: It's not just one person. But when I see a person who is walking with a limp, a brace or a disability, I think if they can do it, then so can I. I am inspired by their determination to keep it moving no matter what.
Something I love to do that most people would never imagine: Hiking is my new love. I just love the outdoors and pushing myself to get to that view at the top.
Quote that inspires me: Always believe that something wonderful is going to happen. Even with all the ups and downs, never take a day for granted. Cherish the little things and hug the ones you love.
Friends describe me as: Energetic, short and always smiling, selfless in giving and sharing.
At the top of my "to-do" list: To walk with any person who is undergoing chemo alone. My sister and friends didn't let me do one treatment alone and I want to ensure I am there for any woman going through cancer. My list includes working with the hospitals to get back to visiting chemo patients now that COVID-19 is under control.
Best late-night snack: A bowl of grapes and cheese.
Best thing my parents ever taught me: To treat everyone exactly as you would like to be treated.
Person who influenced me the most: My mom, Julia M. Simmons. She smiled through all her ups and downs, roadblocks and pains. No one could take her joy.
Next goal: To learn to swim, and maybe to walk a full marathon.