'Chief Connection Officer'
Former NSU point guard is among nation's top rugby players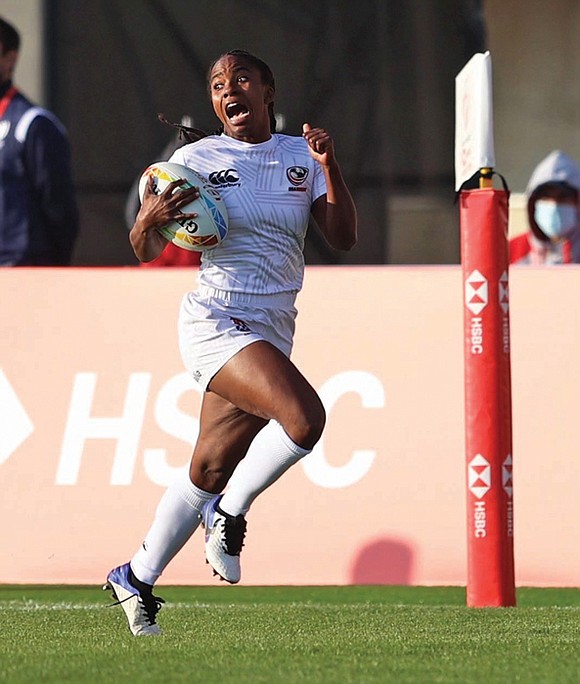 As a Norfolk State University women's basketball point guard, Jazamine "Jaz" Gray was known for her passing talent. She tossed for 230 career assists.
Since then, Gray has passed the test in another sport — rugby.
The 29-year-old Raleigh, N.C., native has made the U.S. Women's Sevens National Team and has represented America in international competition in locales such as Spain, Canada and the United Arab Emirates.
Considered one of the nation's top rugby players, she looks forward to wearing the red, white and blue in the upcoming Olympic and World Cup events.
The former Spartan combines speed, strength, stamina and toughness on the pitch, earning the nickname "Chief Connection Officer."
Gray's considerable talents haven't gone unnoticed by the national press. In the June 6 edition of Sports Illustrated, Gray was named to the magazine's Elle-evate: 100 Influential Black Women in Sports list. Contributing to SI's selections was Empower Onyx.
Following graduation from NSU in 2015, Gray began working as a personal trainer at the Results Fitness Gym in North Carolina. The facility is owned by her brother, Jeramie.
While working at the gym Gray was introduced to rugby by a client. Despite knowing little about the sport initially, Gray decided to give it a shot.
"I couldn't even tell you what was going on during that practice. I just remember deciding to come back again," NSU's website quotes her as saying. "I just kept coming back and enjoyed it."
Gray soon started playing on elite club teams, which led to her making the U.S. National squad and receiving a Sports Illustrated tribute.