From the Free Press to the front office
From the Free Press to the front office St. Joe's student-athlete flexes writing skills as summer news intern
Bonnie Newman Davis | 8/4/2022, 6 p.m.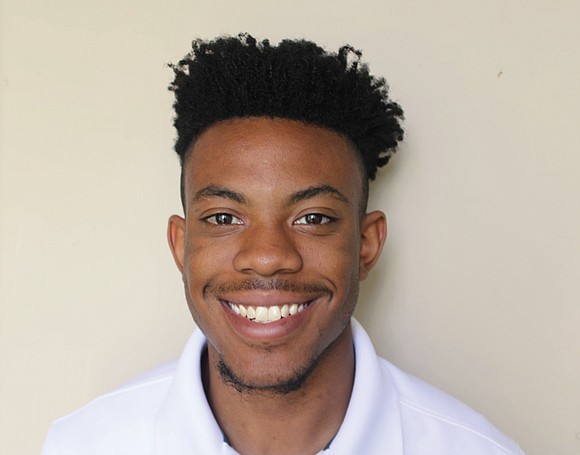 Most journalists will tell you that nothing beats seeing your name in print or having something tangible that says to family, friends and future employers, "I did this."
For the past 10 weeks, Richmond Free Press summer news intern Donald J. Adams Jr. has written several articles for this newspaper that bear his byline, along with several shorter stories that seldom identify the reporter.
Among Mr. Adams' articles are the front-page announcement about former First Lady Michelle Obama's visit to Richmond in May, NBA players and their family ties, professional sports messaging about gun violence, and the annual Camp Diva Market Day sponsored by Girls For A Change.
Upcoming features include commentaries on how overturning Roe v. Wade impacts women athletes and a look back at the World Athletic Competitions.
In addition to reporting and writing, Mr. Adams has pitched in on our Wednesday production nights by reading and proofing copy, making last-minute phone calls or finding photos to make a story pop.
During his internship, Mr. Adams, a rising junior at Saint Joseph's University in Philadelphia, has been eager to assist and learn, while handling each of his assignments with aplomb and grace.
Before attending St. Joe's, also known as Hawk Hill, Mr. Adams' passion for extracurricular activities were nurtured for 13 years at Richmond's Collegiate School. From kindergarten through 12th grade, he participated in activities such as writing for the school newspaper, photography and serving as co-president of Collegiate's diversity club (Mosaic).
Besides those pursuits, Mr. Adams has participated in multiple varsity-level sports.
"I participated in basketball, football and track and field, and was a member of my school's football team during my junior year, when I also received All Preparatory football accolades," he says. "During my senior year, I won the VISAA State Championship for the long jump, and helped my school secure our first-ever track and field state championship."
Mr. Adams' passion for track led him to pursue a college athletic career, and upon graduating from Collegiate in 2020, he received a track and field scholarship to Saint Joseph's, where, as a member of its track team, he specializes in jumps and sprints.
"My love for sports has not only extended to playing them; this past fall I served as a creative intern for the Saint Joseph's athletic department, which gave me the opportunity to serve as a sideline photographer for both the men's and women's basketball teams during scrimmages and game days," he says. "This was a vital part of my sophomore year experience, learning the inner workings and behind the scenes of a Division I athletic department's operations."
Mr. Adams' future plans include merging his business studies with athletics and physical fitness, with a long-term goal of owning a franchise of gyms that help athletes perform at a high level and non-athletes "feel and look their best."
After college, his short-term goal is to work in the front office or marketing department of a professional or collegiate athletic team to learn how they conduct their day-to-day business operations.
We are confident that Mr.Adams' Richmond Free Press summer internship experience has prepared him for front offices in Richmond, Philadelphia and beyond.
How can we be so sure?
He'll know what questions to ask and to double check spelling, grammar and dates.
He won't rely on Google or text messaging for information. Rather, he will pick up the phone and go straight to the source.
He will continue to value good eye contact.
He won't be discouraged when asked to revise an assignment, or to produce a document on deadline.
He'll never consider any work too menial or complain about long hours.
He will someday hire his own interns.
Thank you for your service, Mr. Adams. Carpe diem!