Personality: Bryan Price
Spotlight on the board chairman of Equality Virginia
8/11/2022, 6 p.m.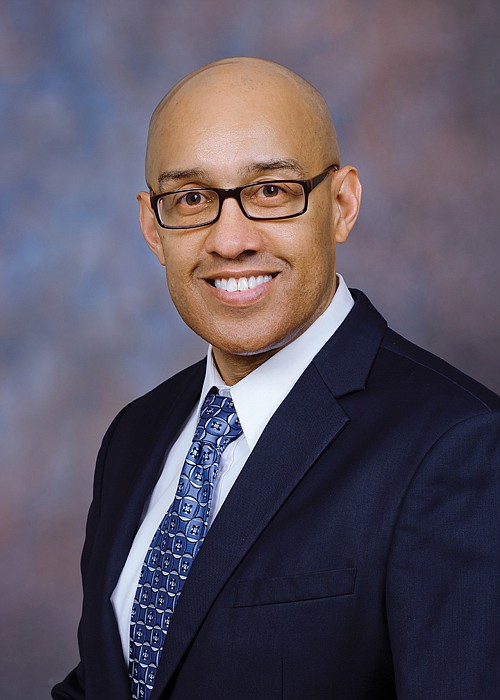 Part of Bryan Price's email signature includes his favorite quote. It is from Muhammad Ali, and it speaks to the things we see as impossible to overcome — and to the power of each of us to affect change in the world.
It is a theme that recurs during the course of a recent phone interview. Mr. Price mentions it when explaining why his grandmother, Vivian Keen, has been so inspirational to him.
When his mother became pregnant in high school, Mr. Price's grandmother stopped working to care for the young boy. His parents got married and finished school, which was seen as crucial for them to build careers that would allow the young family to someday become self-sufficient.
"Her actions taught me the power in being a servant," Mr. Price said. "My grandmother gave me a real-world example of how your decisions can have a positive impact on others."
Affecting change comes up again when Mr. Price discusses a book that holds great meaning for him, "The Autobiography of Malcolm X."
"It may sound cliché, but it showed me you can't judge a book by its cover because anyone can change ... and anyone can do great things," Mr. Price said. "Malcolm X was a famous spokesman and my grandmother was my grandmother, but they both knew they could make a difference."
Making a difference is something that Mr. Price tries to do every day in every aspect of his life. The native Virginian founded GTP Wellness Consulting LLC to support holistic approaches to physical, mental and societal wellness, conducts research and community outreach for the University of Virginia Cancer Center, and teaches classes in urban line dance several times a week.
He also became the chairman of Equality Virginia's board in July. The organization works to advocate for equality and an inclusive Commonwealth for LGBTQ+ people in Virginia.
"There are over 300,000 Virginians who identify as LGBTQ+ and they live in every corner of our great Commonwealth," Mr. Price says. "They are our neighbors, our friends, our faith leaders, and our local business owners. We have accomplished a lot together in the past couple of years, not the least of which is becoming the first state in the South with LGBTQ+ nondiscrimination protections."
Despite its progress, Equality Virginia says much work remains so that all LGBTQ+ Virginians can thrive and Virginia can truly be an equitable, inclusive and welcoming place.
Mr. Price says he first became involved with Equality Virginia in 2020 because he supported its goals, but saw a need to increase representation for the substantial LGBTQ+ community who live "west of 95," as well as LGBTQ+ people of color.
"I guess I took care of two demographics there," said Mr. Price, who lives on a farm in South Boston with his husband, Craig.
The two have been together since 2005 when they met in a Virginia Tech football chatroom. The Hokie alums hold season football tickets and will celebrate their 14th anniversary Aug. 22.
"When I was younger, I thought it would be impossible for me to be happy as a gay, black, rural man," Mr. Price said. "But look at me now."
Mr. Price says that his work, volunteerism and teaching bring him community and fellowship, keep him fit, sharpen his mind, hold him accountable to others and make him a more well-rounded person.
"As many things as I'm involved in, there's always that spark of joy in there," he says. "They keep me going. They give me purpose. They let me make a difference in the world. They're who I am."
Meet an advocate who believes a willing spirit and hard work can make big changes, Equality Virginia board chairman and this week's Personality, Bryan Price:
Pronouns: He/him.
Volunteer position: Board chairman, Equality Virginia.
Date and place of birth: March 1965 in Danville.
Where I live now: South Boston.
Education: Studied statistics, mathematics and computer science at Virginia Tech.
Occupation: Founder and principal of GTP Wellness Consulting LLC. Research assistant for Community Outreach for the UVA Cancer Center.
Family: Husband, Craig.
Equality Virginia is: The leading advocacy organization in Virginia seeking equality for lesbian, gay, bisexual and transgender people.
Mission: Equality Virginia is building a fully inclusive Commonwealth by educating, empowering, and mobilizing Virginians to ensure all LGBTQ+ people are free to live, love, learn and work.
When and why Equality Virginia was founded: Equality Virginia was founded in 1989 as Virginians for Justice with the goal of advancing the cause of equal justice for all citizens of the Commonwealth of Virginia.
Equality Virginia is important in our community because: LGBTQ+ Virginians deserve a Virginia in which LGBTQ+ people — every demographic, race, ethnicity, ZIP code, and experience — are valued and thriving. It's important that LGBTQ+ Virginians know there is an organization working for their lived equality.
When elected board chair: July 2022.
Why I accepted position: I believe that it was the perfect situation and the perfect time. EV has a mission to become more racially just and representative and my transformational leadership style could help achieve that goal.
Significance of being board chair at this time: Our community is under attack from many different entities. To keep those entities from being successful, we need the thoughts, voices, and engagement from the entire community. My job is to make sure that anyone that identifies as LGBTQIA+ knows that EV represents them, welcomes them, and is fighting for them. " I am Virginia ... We are Virginia!"
Number one goal or project: Confronting systemic inequities to liberate the full spectrum of the LGBTQ+ community from discrimination and oppression.
Strategy for achieving goals: Building our collective political power by prioritizing community-centered and community-led work, holding those in power accountable, and challenging the systems that were built to oppress us.
Biggest hurdle: Our biggest hurdles to achieving full liberation are white supremacy, racism and anti-Blackness.
COVID and Equality Virginia: We are still in the midst of a global pandemic that continues to disproportionally impact marginalized communities, including LGBTQ+ people. We know that LGBTQ+ households are more likely than non-LGBTQ+ households to experience job losses, serious financial problems, issues accessing health care, and increased challenges navigating at-home learning for their children as a result of the pandemic. These challenges are especially true for Black and Latinx people.
At Equality Virginia, the safety of the community, our staff, board and volunteers is our number one priority. In 2020, and to this day, we shifted much of our programming and events to virtual spaces which allowed us to stay connected, and safely educate and engage with our community. We remain flexible when and if staff want to work from home, and we continue to have COVID-19 protocols in place when hosting in-person events.
Black Lives Matter and Equality Virginia: The LGBTQ+ community and our movement was founded, by Black and brown transgender women and sex workers, on the principle and value of resisting police brutality and violence. We celebrate Pride because it commemorates, in part, our resisting police harassment and brutality at Stonewall in New York. We understand what it means to rise up and push back against a culture that tells us we are less than others, that Black lives don't matter.
At Equality Virginia we unequivocally say Black Lives Matter and Black Trans Lives Matter. And we have to commit ourselves to the action of those words and what they require of us. Anti-racism is not additional to our work for LGBTQ+ equality, it is an indivisible part of the work of LGBTQ+ advocacy. When our movement is invested in defeating white supremacy, we all succeed and thrive. We take the stance that our work must be rooted in addressing the conditions of our community members who face the most unmet needs and the largest barriers—Black LGBTQ+ people, and especially Black transgender and non-binary people.
Services provided: Throughout the year we provide trainings, workshop opportunities, free legal clinics, and opportunities for constituents to engage with their lawmakers.
Equality Virginia's allies: We are able to move the work forward thanks to the many allies we have with organizations around the Commonwealth. This includes faith groups, youth-serving groups, direct service organizations, education groups, health providers, and mental health agencies.
Who benefits from Equality Virginia: Everyone in our Commonwealth benefits when there is an organization fighting to ensure LGBTQ+ people are able to live authentic lives free from discrimination, stigmatization, violence and harm. Not only is our work focused on improving the lived equality for LGBTQ+ people, but also on creating a culture and society where our stories and experiences can be shared, understood, respected and valued.
Equality Virginia's upcoming events: Equality Virginia's 19th Annual Commonwealth Dinner will be held Saturday, Aug. 13, from 5:30 to 11:30 p.m. at the Greater Richmond Convention Center! This signa- ture event is Virginia's largest black-tie gala for the LGBTQ+ community and its supporters. In past years, over 1,000 guests, including Virginia's political, business, and nonprofit leaders and influencers, have joined us from every region to celebrate each other's successes. Because everyone can't attend the event in person, we will have a live stream option for this year's celebration.
In partnership with Bary Law and the Virginia Equality Bar Association, we host a free and virtual Name Change & Gender Marker Clinic every month. At this clinic, volunteer attorneys assist clients with the legal aspects of name and gender marker changes. Specific offerings include name change applications, birth certificate corrections (including petitions for gender marker changes where required by the birth state), social security record updates, DMV ID, passports, military discharge records (DD214 amendments), and answering related legal questions. Income limitations apply. Cost assistance is avail- able. Volunteer attorneys are licensed in Virginia; clients must reside in Virginia or have been born in Virginia in order to receive assistance. Sign up for an appointment at: bit.ly/NGMclinic
We host a monthly workshop series for folks who want to speak out in support of LGBTQ+ youths at a school board meeting, committee hearing, or on a public comment forum but may need some tips and tricks for public speaking. Join Kyleigh Hynes, EV's Safe Schools Coordinator, at our Safe Schools trainings in August! Our Advocacy 101 Training provides different methods of advocacy, things to consider before advocating, and more! At our Public Comment workshops folks can learn how to structure their comments, persuasive talking points, tips for speaking, and what to expect at public meetings! RSVP at https://linktr.ee/equalityvirginia.
Ways to be involved with Equality Virginia:
• Volunteer - https://equalityvirginia.org/get-engaged/volunteer/
• Take action - https://equalityvirginia.org/get-engaged/take-action/
• Join our mailing list - https://equalityvirginia.org/get-engaged/join-our-mailing-list/
• Give now - https://equalityvirginia.org/get-engaged/give-now/
How I start the day: Another opportunity to make a difference.
Three words that best describe me: Intuitive, creative, and inquisitive.
Best late-night snack: I don't eat late at night.
How I unwind: Urban Line Dance. I teach classes four times a week in Southside Virginia. https://www.facebook.com/ groups/996946880358473
What I'm continuing to learn about myself during the pandemic: Increased capacity to learn and absorb more information.
Something I love to do that most people would never imagine: Eat fried foods and decadent sweets.
A quote that I am most inspired by is: "Impossible is just a big word thrown around by small men who find it easier to live in the world they've been given than to explore the power they have to change it." — Muhammad Ali
At the top of my "to-do" list is: Visit the African continent.
The best thing my parents ever taught me: I am more than enough.
The person who influenced me the most: My grandmother, Vivian Keen.
Book that influenced me the most: "The Autobiography of Malcolm X."
What I'm reading now: "The Groundings with My Brothers" by Walter Rodney.
Next goal: Live each day to the fullest!