'Gentle giant'
A. Donald McEachin, hailed as trailblazing figure in Virginia politics, dies
Holly Rodriguez | 12/1/2022, 6 p.m.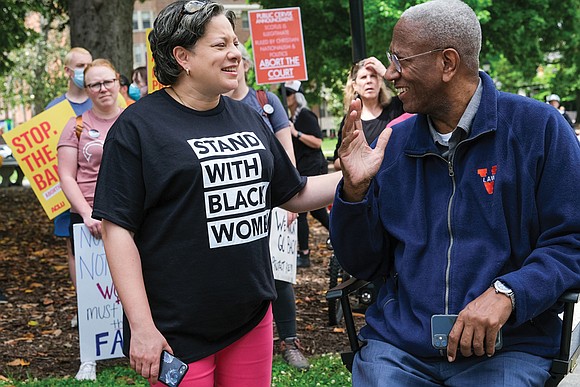 A few weeks before Rep. A. (Aston) Donald McEachin's Nov. 8 successful bid to maintain his seat in U.S. Congress, he contacted Rev. Ralph Hodge, senior pastor at Richmond's Second Baptist Church-Southside.
"He told me he wanted us to meet for lunch a week after the election was over," Rev. Hodge said. The two men had been collaborating to obtain funding for a Group Violence Intervention framework to reduce gun violence in Richmond.
Although Rep. McEachin was recovering from a recent procedure, and his physical strength was compromised, his determination was not, Rev. Hodge said. The two spoke for about 40 minutes.
"He was extremely concerned about making sure whatever resources were needed to move forward on this were in place, and that there was nothing in the way at federal level," Rev. Hodge said. "He wanted the community to know he was behind us."
Rep. McEachin secured $1 million in funding for the project last year. He spoke about the imminent need to end gun violence in the city when he visited Second Baptist Church on Oct. 25.
The visit perhaps was one of Rep. McEachin's last public appearances.
After battling colorectal cancer and its complications for several years, Rep. McEachin died on Monday, Nov. 28, 2022. He was 61 years old.
Upon notice of his death, tributes poured in from government and political officials throughout Virginia and the United States. Several major news organizations delivered announcements as well.
"He will be deeply missed by his colleagues, and he leaves behind a legacy that will improve the lives of all of our children for generations to come," said House Speaker Nancy Pelosi.
Virginia Sen. Tim Kaine called Rep. McEachin "a gentle giant, a compassionate champion for underdogs, a climate warrior, a Christian example, an understanding dad, a proud husband, a loyal brother."
Rep. Bobby Scott said: "Donald was a thoughtful and prin- cipled legislator and respected by people on both sides of the aisle. He was also a trailblazing figure in Virginia politics — being the first African-American nominee of a major party for Virginia Attorney General and only the third African-American elected to Congress from Virginia."
Flags were flown at half-staff at the U.S. Capitol, the Virginia governor's mansion and the White House on Tuesday.
In a Twitter post, Gov. Glenn Youngkin praised McEachin as "a valiant fighter to the end" who "worked tirelessly to improve the lives of his constituents...."
"I have been proud to call Congressman McEachin, his wife Colette and their children my friends for over 20 years," Eileen Filler-Corn said in an email to the Richmond Free Press. "This is a tremendous loss for the residents of the Fourth Congressional District and the Commonwealth as a whole."
The Virginia Legislative Black Caucus expressed its condolences as well.
"The members of the Virginia Legislative Black Caucus (VLBC) mourn the passing of Congressman A. Donald McEachin and extend their deepest sympathies and condolences to his family, staff, friends, and colleagues.
"Congressman McEachin leaves behind a long legacy of public service and success in fighting for justice, civil rights, equity, and for the protection of the environment. He was a trailblazer and a tireless leader who fought hard and paved the path for so many. Our hearts go out to all who loved and knew the beloved Congressman A. Donald McEachin."
Rev. Hodge first met Rep. McEachin in the early 2000s when visiting Capitol Hill to push for environmental justice and preservation of the Chesapeake Bay.
"You want this kind of congressman," Rev. Hodge said. "He was accessible and he would actually listen."
Rep. McEachin served two terms in the Virginia House of Delegates and nine years in the state Senate. On Nov. 8 he defeated Republican opponent Leon Benjamin for a second time, and would have started his fourth term in Congress in January.
He represented the 4th District, which now includes all or part of 15 cities and counties, stretching from Richmond to Brunswick, Greensville and Southampton counties. The district gets about three-fourths of its votes from Richmond and from Eastern Henrico and Eastern Chesterfield.
Rep. McEachin's environmental advocacy work led the the Virginia Interfaith Power & Light to induct him as the first recipient of the organization's Environmental Justice Hall of Fame last spring.
The congressman served on the House Committee on Energy and Commerce, the Select Committee on the Climate Crisis and the House Committee on Natural Resources. He also served on several subcommittees and 15 caucuses. In his first term in Congress, Rep. McEachin co-founded the United for Climate and Environmental Justice Congressional Task Force and served as co-chair until he died.
The son of an Army veteran and a public schoolteacher, Mr. McEachin graduated from St. Christopher's School in Richmond. He earned a bachelor's in political science at American University and a law degree from the University of Virginia School of Law. He also earned a master's of divinity from the Samuel DeWitt Proctor School of Theology at Virginia Union University.
A member of the Virginia State Bar and the Virginia Trial Lawyers Association, Rep. McEachin was a member of Kappa Alpha Psi fraternity and the NAACP.
He is survived by his wife, Colette McEachin, who is Richmond Commonwealth's Attorney, and their three children, Mac, Briana and Alexandra. Funeral services for Rep. McEachin are scheduled for 11 a.m. Wednesday, Dec. 7 at The Saint Paul's Baptist, 4247 Creighton Road in Henrico County.