No, Stacey Abrams is not Moses, by Candice Marie Benbow
12/1/2022, 6 p.m.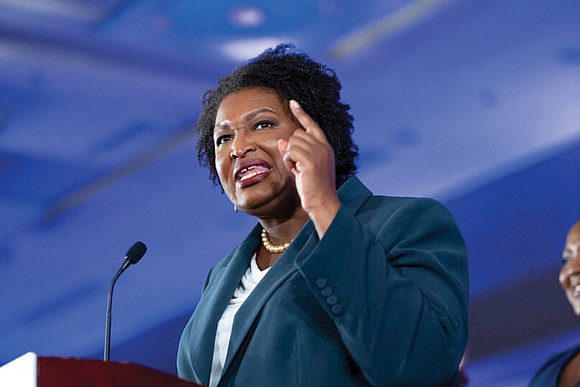 When I moved to Atlanta in September of 2020, the first thing I did was register to vote.
I was excited to support the campaign of U.S. Sen. Jon Ossoff and cast my vote for the Rev. Raphael Warnock, a man I know and admire. It was a slight consolation for not having been able to vote for Stacey Abrams in the 2018 gubernatorial election and, while I was always in support of Sen. Kamala Harris and her pursuit of the White House, I — like most Abrams sup- porters — felt some kind of way when it became clear it would not be a Biden-Abrams 2020 ticket.
Fast forward to 2022. At an early voting station housed at Berean Christian Church in Stone Mountain, I found myself voting for Sen. Warnock again, along with a slew of other candidates and referendum questions. But this time, I was able to do what I've wanted to do since I became a Georgia resident: Vote Stacey Abrams for governor. Given the voter suppression during Ms. Abrams' previous run against Brian Kemp and his retributive politics during a moment where all the progress of recent decades is disappearing, I was sure Georgians would make the right choice.
Breaking news: They didn't. As results continued to pour in, I asked myself what it would take for Ms. Abrams to win. How can someone be so accomplished and equipped for the moment at hand and be denied? Unfortunately, that is the nature of politics — it is a game, after all. You will win some elections and you will lose others. Most politicians will tell you that you can't take it personally, even if they don't believe that themselves.
Just as we were accepting the results, something weird happened. Instead of an analysis of every aspect of that race, the conversation shifted toward heralding Ms. Abrams as our "Moses."
It was first put forth by MSNBC's Joe Scarborough and the Rev. Al Sharpton. We then heard New York Times columnists Charles M. Blow say that he fears the plight of Moses is Ms. Abrams's story, too.
The issues with such an analysis are legion. As we rightly call out the dangers of Christian nationalism on the right, we must be willing to acknowledge when Christianity is also weaponized by the left.
Not to mention, it's totally inaccurate. When you actually read the story of Moses, you know that Moses was forbidden to enter into the Promised Land because of his disobedience. Watching the children enter without him was a consequence of his willful disregard of divine instruction. That's not why Ms. Abrams lost. God didn't tell her to do one thing and she did another, resulting in the consequence of being barred from the governor's mansion.
Ms. Abrams didn't enter the promised land for one reason: She's a Black woman.
Having all of this converge to experience defeat again does not make Ms. Abrams our Moses. She is not a man who squandered the opportunity of a lifetime simply because he couldn't control his frustrations or handle his emotions. She is a Black woman who tried to bring revolutionary change to a deeply red state.
Candice Marie Benbow is a public theologian and the author of "Red Lip Theology: For Church Girls Who've Considered Tithing to the Beauty Supply Store When Sunday Morning Isn't Enough."