RPS set to reopen Thursday after weather delay and early run on COVID-19 test kits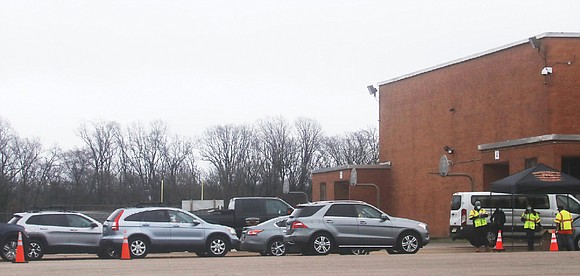 As school districts across the country consider postponing reopening following the holiday break or instituting remote instruction because of the new wave of COVID-19 infections, Richmond Public Schools stands fast in promoting vaccinations and testing to keep their doors open for in-person instruction.
Across RPS, mask requirements are returning and distribution of at-home COVID-19 test kits will continue to be distributed to parents, teachers and staff, officials said.
While RPS officials are concerned about the spike of new COVID-19 cases stemming from the highly transmissible omicron variant, the district is not hesitating about reopening. Schools were expected to reopen Thursday, Jan. 6, following a holiday break that was extended several days because of snowy and icy weather conditions.
More than 8,000 at-home test kits were given out Sunday to RPS families, teachers and staff at drive-thru, pick-up events at four schools. The kits were gone before the 4 p.m. closing time, with cars snaked around school parking lots and clogging streets leading to the schools.
"At this point, the administration has everything in place to make sure all RPS schools and faculty are safe," School Board Chairwoman Cheryl L. Burke, 7th District, told the Free Press on Wednesday, noting her confidence in the school system's ability to reopen safely. "The additional tool is having testing kits available across the district. That data will be registered, via QR code, and accessible by RPS' medical staff."
Ms. Burke continued: "Every air filter and purifier in every school will be changed, as well as all sanitizing protocols will be strictly followed for daily functioning and health safety.
"We are doing everything possible for our students to stay in school. The district continues to have meals and mask require- ments, mental health and teacher support in place," she said.
The RPS administration wants to avoid returning to virtual learning. City schools were shut down from March 2020 until fall 2021 because of the pandemic. Students, parents, teachers and others had to adjust to remote learning, which state education officials, produced a huge learning gap for students that schools systems now are working to bridge.
"I think it would be really damaging to our students to go fully virtual again," Superintendent Jason Kamras said.
RPS reported this week that 300 staff members are out for the moment because of COVID-19. That number includes 250 who apparently tested positive for the coronavirus and 50 on leave to care for a relative with COVID-19 or for some other family reason.
School Board Vice Chairman Jonathan M. Young, 4th District, supports using central office employees to fill in for absent administrators at school buildings, as well as keeping stable classroom environments.
"A lot of people in central office have been formally trained as educators and have previous experience in the classroom," Mr. Young said of RPS'employees as the district tries to maintain a semblance of business as usual. "The good news for those testing positive, the omicron symptoms are not as severe as the delta variant," he said.
In a sign of support for the Kamras administration and the School Board, the local teachers' association issued a statement: "The Richmond Education Association stands with Richmond Public Schools staff, students and families in their concern for protecting the health and safety in our schools with the presence of the Omicron variant and record-setting COVID-19 infections in our city, state and across the country," REA President Katina Harris said in a statement released to the media. "One thing that we would like to see and strongly request is for RPS to issue specific guidance regarding the percentages of instructional staff that need to be present to consider work sites/schools operational and safe for students and staff," Ms. Harris stated.
On Sunday, RPS, in partnership with the Virginia Department of Health, held a drive-up distribution of 8,000 at-home rapid COVID-19 tests from 11 a.m. to 4 p.m. at Henderson and Martin Luther King Jr. middle schools and Broad Rock and Cardinal elementary schools.
Traffic was snarled as blocks upon blocks of drivers waited to get the test kits for their children.
"I am not surprised," Mr. Kamras said, when asked about the community response. The kits each contained two tests, but officials ran out of kits long before the closing time. Parents were left in line and empty handed.
According to the RPS administration, an additional 25,000 test kits were to be delivered by week's end to accommodate the demand. The kits are to go to individual schools for distribution to families and staff, officials said. Mr. Kamras said more KN95 masks also will be available.
"The additional tests will be used for anyone who may be symptomatic at school and who needs to be tested for the "Test to Stay" program," Mr. Kamras said.
Under the program, students and staff who test positive for the virus and go into quarantine will be able to get test kits from the school to take home and test themselves every night to determine whether they can return to school, he said.
Each night, the person will take the test via a telehealth portal. Each test kit has a QR code, which can be registered using a cellphone. A nurse or health professional will walk the person through the testing and log the person's result.
RPS medical staff will have access to the person's data for review and determination of the next step – either a return to school or continued home quarantine.
Anyone who has had close contact with the person who tested positive can return to school by testing negative.
New guidelines from the U.S. Centers for Disease Control and Prevention have shortened the quarantine time to five days for anyone who tests positive, as long as they are asymptomatic and wear a mask for an additional five days.
According to the RPS administration, the new testing program, the KN95 masks and the CDC guidelines are the most important tools in helping to keep school doors open and students in classrooms.
RPS is continuing its 100 percent masking policy, even as the School Board voted to rescind the vaccination mandate in December.
"Any student isolated or quarantined, due to testing positive for COVID, will be able to continue to learn online," Mr. Kamras said.
"We have seen a spike in the omicron virus spreading," said School Board member Nicole Jones, 9th District, who represents one of South Side's largely Black and Latino areas. "However, it is not any less safe than it was before we went into the holiday break."
She said RPS' administrative team has done a good job getting out front with preventative measures.
"The district's communication with the community, especially Spanish-speaking parents, has been an extraordinary mitigation strategy," she said. "What is safe today may not be safe tomorrow."
More RPS reopening and COVID-19 response information will be presented at the School Board's next meeting at 6 p.m. Monday, Jan. 10, at Martin Luther King Jr. Middle School, 1000 Mosby St. Masks are required.