Feb. 3 award ceremony to honor publishers of Richmond Free Press
1/27/2022, 6 p.m.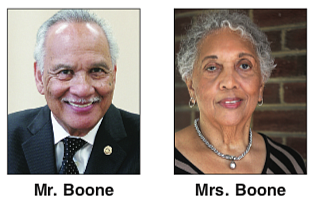 The Virginia Pro Chapter of the Society of Professional Journalists will present its 2020 George Mason Award to Jean Patterson Boone, publisher of the Richmond Free Press, and her late husband, Ray Boone, who founded the award-winning weekly, during a ceremony on Thursday, Feb. 3, at Virginia Commonwealth University.
The event, which had been delayed because of the COVID-19 pandemic, will be streamed live from 6 to 9 p.m. from VCU's Institute for Contemporary Art, 601 West Broad St. The ceremony will feature a conversation between Mrs. Jean Patterson Boone and VCU Professor Chioke l'Anson, the director of community media at the Virginia Public Media and Institute of Contemporary Art Community Media Center, and a radio announcer for NPR's sponsorship messages.
Ray Boone, who began his journalism career as a reporter at the News-Herald in his native Suffolk, Virginia, in the late 1950s, founded the Richmond Free Press in 1992, with his wife serving as advertising director.
Jean Boone has been the publisher of the newspaper since her husband's death from pancreatic cancer in 2014. Under the Boones' stewardship, the Richmond Free Press has won numerous awards for journalism and advertising from the Virginia Press Association, the National Newspaper Publishers Association, and other organizations.
The SPJ Virginia Pro Chapter annually gives its George Mason Award to "a journalist or friend of journalism of exceptional character and dedication to the craft." The award is named for the principal author of the Virginia Declaration of Rights, the model for the Bill of Rights in the U.S. Constitution.
Jean Boone will accept the award during the Feb. 3 ceremony, which is co-sponsored by SPJ's VCU chapter.
Livestream tickets to the event are $10 and can be obtained at tinyurl.com/booneGMA.
In nominating the Boones for the George Mason Award, Jack White, who has covered the civil rights movement and Black politics for The Washington Post, Time magazine and TheRoot.com, stated, "For decades, the name Boone has been synonymous with the best traditions of the American press. First as editor of the Richmond Afro-American and then as editor of the aptly named Richmond Free Press, Ray Boone fearlessly and tirelessly spoke truth to the entrenched powers that be in Virginia and throughout the nation. Ray's wife Jean was his partner and ally in that relentless crusade and, after his death, she became its unflinching leader."
The SPJ Virginia Pro Chapter represents print, broadcast and online journalists across the commonwealth. SPJ is the nation's most broad-based journalism organization, dedicated to encouraging the free practice of journalism and stimulating high standards of ethical behavior.
The Virginia Pro Chapter has been presenting the George Mason Award since 1964. Past recipients include Pulitzer Prize winners, renowned journalism professors and First Amendment advocates.