Personality: Maxwell L. 'Max' German
Spotlight on board president of Ronald McDonald House Charities of Richmond
1/27/2022, 6 p.m.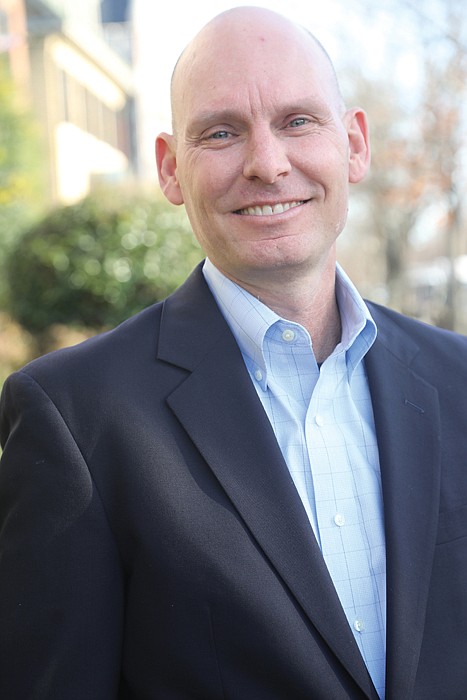 "An opportunity to serve the community and support those in need."
That's the reason why Maxwell L. "Max" German says he took on the role of board president with the Ronald McDonald House Charities of Richmond.
But he has a deep, personal reason for joining the non-profit organization that was founded nationally 48 years ago in Philadelphia to provide a "home-away-from-home" for families who often travel great distances for their children to receive medical care.
Originally from Salt Lake City, Mr. German's first experience with RMHC of Richmond came after moving to the city, during long and frequent hospital visits to treat his son's genetic blood disorder.
Sadly, his son died in 2004. But during the course of 16 months, he saw the value the Ronald McDonald House held for those traveling long distances for their children's medical care. His experience inspired him to join RMHC in January 2014.
"What it brought to our attention is that, for those who do need to travel, having that place where they are near the hospital ... was extremely important," Mr. German says. "It provides that central base where families can not only find shelter and food, but also find connectivity with other people and other families who are experiencing what they're experiencing."
The Ronald McDonald House in Richmond is at 2330 Monument Ave. and serves all pediatric hospitals and service providers in the area, including all Bon Secours, HCA and VCU Health System facilities, as well as Cumberland Hospital for Children and Adolescents and other specialty therapy centers.
Mr. German was elected president of the board earlier this month. During the course of his two-year term, he wants to maximize the board's involvement in RMHC of Richmond's activities and to increase the organization's ability to aid even more families.
"RMHC of Richmond supports programs that directly impact the health and well-being of children and their families," Mr. German says. "Our vision is for every family whose child needs to access specialty care in Richmond has world-class temporary housing and support services and the opportunity to be actively involved in their child's care."
RMHC of Richmond's chief goals this year are to "work through priorities and plans for expansion of our family-centered programs and physical space," Mr. German says. Additionally, the organization wants to "maintain a culturally safe atmosphere for guests, staff and volunteers" and "continue to deliver a high level of service for families" both at the Ronald McDonald House and through its in-hospital programs.
During the pandemic, RMHC has had to limit capacity in the house to limit the potential spread of the virus. Families also have been staying at partner hotels when the house reaches its capacity.
He looks forward to the next two years at the helm and continuing to help families during difficult times.
"I've been on the board eight years or so and really developed a great passion for it," Mr. German says. "I'm just proud to be a part of the house and to be a small part in the overall success that the house has experienced thus far. And I'm very optimistic about the things we're going to be able to do to help the community going forward."
Meet a helping hand and this week's Personality, Maxwell L. "Max" German:
No. 1 volunteer position: Board president, Ronald McDonald House Charities of Richmond.
Occupation: Bank of America, where I have been for more than 28 years.
Date and place of birth: Sept. 7, in Salt Lake City, Utah.
Where I live now: Henrico County.
Education: Bachelor's degree, New Mexico State University, 1993.
Family: Married for 28 years to my high school sweetheart, Stacy. Children: daughter, Sydney, a senior at the University of Mary Washington; daughter, Makenna, a freshman at Mills E. Godwin High School; and son, Zachary, who passed away Nov. 9, 2004, following a battle with a genetic blood disorder.
When and why Ronald McDonald House Charities, or RMHC, was founded nationally: In 1974, Philadelphia Eagles football player Fred Hill and his wife, Fran, learned that their daughter, Kim, was diagnosed with leukemia. While traveling to Philadelphia for Kim's treatments, procedures and doctors'visits, they noticed a number of families and children in the same situations. Families drove hours back and forth from home to the hospital, sleeping overnight in waiting rooms and eating from vending machines because they had no place else to go. They decided to build a "home-away-from-home" for these families. With the help of McDonald's, they purchased and restored a house near the hospital so families caring for ill or injured children could have a place to stay. This became known as the very first Ronald McDonald House.
RMHC founders: Dr. Audrey Evans, a pediatric oncologist at The Children's Hospital of Philadelphia; Fred Hill, Philadelphia Eagles football player; and Jimmy Murray, co-founder and then-general manager of the Philadelphia Eagles.
Mission of RMHC of Richmond: RMHC of Richmond supports programs that directly impact the health and well-being of children and their families. Our vision is for every family whose child needs to access specialty care in RVA has world-class temporary housing and support services and the opportunity to be actively involved in their child's care.
When and why founded locally: Ronald McDonald House of Richmond was founded April 15, 1980, to serve families with children receiving care at local pediatric hospitals.
Number of RMHC across the nation: There are 187 Ronald McDonald Houses across the nation and 368 Ronald McDonald Houses in 45 countries abroad.
When elected board president of RMHC of Richmond: January 2022.
Length of term: Two years.
Why I accepted position: An opportunity to serve the commu- nity and support those in need. Being active within nonprofit organizations was instilled in me by my parents as I observed, and participated, in their volunteer endeavors.
Previous board president's name: Chris Siderio.
No. 1 goal or project as board president: Maximize board involvement while the board and staff work together to support families in need; and aim to grow our ability to support more families.
Strategy for achieving goals: Continue the successes of my predecessors with outreach, positive energy, build/ maintain relationships and accountability.
RMHC of Richmond's core programs: RMHC of Richmond provides lodging, meals, transpor- tation, laundry service and family support for hundreds of families in need each year at our House at 2330 Monument Ave. In-hospital programs include Ronald McDonald Family Rooms, which serve pediatric intensive care units at Children's Hospital of Richmond at VCU and Bon Secours St. Mary's Hospital; Happy Wheels hospitality carts and Lunches with Love, which serve local pediatric and neonatal units; and the RMHC Sibling Center in the Children's Pavilion at the Children's Hospital of Richmond at VCU.
COVID-19 and RMHC Richmond: Throughout the pandemic, we have continued to serve families without hesitation. Like many organizations, we have had to shift and pivot our service delivery model to limit the number of guest families staying at the house at one time to ensure social distancing and to limit the potential of spread of the virus. We rely on partner hotels to house families when our reduced capacity is full. Our food access programs have continued as well, with volunteers supplying ingredients while staff and interns make our Lunches with Love to deliver weekdays to local pediatric hospital units. RMHC operates with the safety and security of our guests, staff and volunteers at the forefront.
How RMHC Richmond addresses racial equity: The core values of RMHC of Richmond provide the framework in which our board, employees and programs address racial equity. We intentionally pursue opportunities through partnerships with local community organizations and businesses that can provide skill development to our dedicated team as it relates to diversity, inclusion and culture sensitivity training. Ongoing efforts in this area include creating an atmosphere of cultural safety, bias training for staff and board, as well as staff engagement in racial equity programs. Additionally, we continually seek ways to support minority and women business enterprises through our purchase of charity and program supplies.
Ways to become involved with RMHC of Richmond: People get involved by volunteering as individuals or with a group to make meals in our kitchen, although some of those activities have been limited by COVID-19. People also volunteer by participating in our off-site opportunities at their own locations. Some people make our Wish List come true, or join the Red Shoe Volunteer Crew to work a series of events. Perhaps the easiest way is to make a donation.
How families connect to RMHC of Richmond: By being referred by a health care provider or approaching us directly.
A perfect day for me: Spending time with family and friends, preferably involving outdoor activities such as a walk with our golden retriever, a cook-out, games and, if possible, a round of golf.
What I am learning about myself during the pandemic: I enjoy, and miss, the surroundings of people, especially my co-workers. There is something exhilarating about the activity of an office, the coming together for a common goal of supporting the needs of our clients and the camaraderie that is created. We, as people, need the connectivity of others. For all that we have, potentially, benefited from physically, the mental impact on society just might be worse.
Something I love to do that most people would never imagine: Both of my daughters have grown up playing soccer. I have served as the team manager for many of their teams, and continue to do so for my youngest. Many would think of this role as a "job," but I rather enjoy it.
Quote that inspires me: "The time is always right to do what is right." — Dr. Martin Luther King Jr.
Friends describe me as: Outgoing, fun, driven and goal-focused.
At the top of my "to-do" list: To repair a leaky faucet in my sink — a task that I can accomplish, although it may take a few attempts and likely will require the help of my wife.
Best late-night snack: A bowl of cereal.
Best thing my parents ever taught me: Treat others as you wish to be treated.
Person who influenced me the most: My parents. I can see the personality of them in me and their influence in the decisions I make.
Book that influenced me the most: "In Love and War: The Story of a Family's Ordeal and Sacrifice During the Vietnam Years" by Admiral James Stockdale and Sybil Stockdale.
What I'm reading now: "A Column of Fire" by Ken Follett.
Next goal: Ride my bike along the complete Virginia Capital Trail.