Personality: Coleman Wortham III
Spotlight on Children's Hospital Foundation board chairman
5/4/2023, 6 p.m.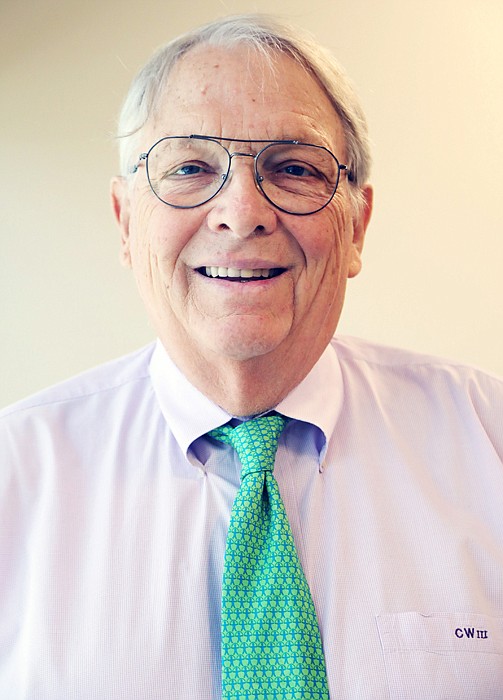 Through decades of change and evolution, Coleman Wortham III has been a steadfast part of Richmond's child care community.
As the board chairman of the Children's Hospital Foundation, Mr. Wortham has served in the role since 2012. But his involvement in the organization and the Children's Hospital of Richmond at VCU started in the 1980s.
Back then Mr. Wortham was a Children's Hospital board member when it was mostly known as a free clinic. He was encouraged by other board members to get involved, but ultimately it was his strong desire to help and support children that kept him involved.
For years, Mr. Wortham helped maintain and improve the hospital long before it merged with VCU Children's Medical Center in 2010 to become a full-service hospital. When that merger occurred, the Children's Hospital Foundation was quickly founded as an independent support and fundraising group, with Mr. Wortham still a core part of their efforts.
His work with CHF is just one of many roles for Mr. Wortham. Over the past five decades, he also has had multiple roles at Davenport & Company, a wealth management and financial adviser services firm where he now serves as chairman. The position has a personal significance, as the company was co-founded by his great-great-uncle, Charles E. Wortham in 1863, and many members of his family have worked as part of the company.
While Davenport has had many leaders since its inception, Mr. Wortham's mark can't be ignored. As president and CEO from 1992 to 2012, the company grew from 99 employees to more than 400, with offices throughout the Mid-Atlantic.
Over the last several years, Mr. Wortham has brought his leadership skills and philanthropic interests to bear in the Children's Hospital Foundations, as the hospital constructed an in-patient tower to better serve the medical needs of children. His mission during this period was direct and simple: To "get this hospital opened...nothing else is at the top of the list right now."
Mr. Wortham's focus on philanthropy, fundraising and improving the public good has earned him acclaim and recognition throughout the years, including being named the 2020 Enduring Philanthropic Partner by the Central Virginia Chapter of the Association of Fundraising Professionals.
With the completion of the in-patient tower, Mr. Wortham now is now focused on other ways to improve the hospital's services and quality of care.
Meet a decades-long leader in Richmond pediatric care, Coleman Wortham III:
Volunteer position: Board chairman, Children's Hospital Foundation.
Occupation: Chairman, Davenport & Company LLC.
Place of birth: Richmond.
Where I live now: Richmond.
Education: Economics degree, The University of Virginia.
Family: Wife, Lindsay; daughter and son-in-law, Virginia "Ginny" and David Kehlenbeck; son & daughter-in-law, Coleman and Cameron Wortham; grandchildren, Mary Vernon, Cole and Elizabeth.
Children's Hospital Foundation is: Children's Hospital Foundation is an independent 501(c)(3) that works to maximize philanthropic impact in children's health at Children's Hospital of Richmond at VCU, driving excellence in patient care, education, and research. We are dedicated to raising and stewarding philanthropic resources that will enable CHoR to become a top, nationally-ranked children's hospital. With roots going back 100 years to the incorporation of the original children's hospital on Brook Road in 1920, we are proud to work with generous members of our community who believe there is no greater cause than providing for the health care needs of children.
When and why founded: CHF has its fundraising roots back in the establishment of the original children's hospital on Brook Road. In 1917, Dr. William Tate Graham, Virginia's first orthopedic surgeon, opened a free clinic in the basement of his office on East Franklin Street. Many children, most of whom were victims of the polio epidemic, were brought to the clinic for care. By 1928, the clinic had grown into a new hospital, operating under the name Crippled Children's Hospital, that was funded by a generous bequest of $500,000 from Sallie May Dooley.
Brief History of Children's Hospital of Richmond at VCU (CHoR): On June 30, 2010 Children's Hospital and VCU Children's Medical Center combined operations to become a full-service hospital under the name Children's Hospital of Richmond at VCU or CHoR. At the same time, Children's Hospital Foundation became an independent foundation dedicated to raising funds to support and advocate for pediatric initiatives at CHoR.
Today, that work continues with the opening of our new inpatient Children's Tower that will create an entire city block dedicated to the care of children.
CHoR founder: Dr. William Tate Graham founded the original Crippled Children's Hospital.
Current president: Elias Neujahr.
CHoR previous locations: CHoR is a multicampus hospital and the original Brook Road hospital is still operational.
CHoR new location: The Children's Tower, which opened April 30, is attached to the existing outpatient Children's Pavilion at 1000 E. Broad St.
How CHoR improves health care for children: At Children's Hospital of Richmond at VCU, we nurture the champion in every child. We combine award-wining clinical care, research and education with an uncanny understanding of what makes kids unique. From casts to cancer – from simple to complex – we do everything in our power to give kids the best shot at a healthy future. Last year, we cared for more than 72,000 children across the state and country.
What makes the new facility extra special for children: The new Children's Tower is home to more than the region's best pediatric emergency, trauma and inpatient care. In partnership with patient families and our community, we've designed this building with special features that make the hospital experience more comfortable for patients and families. Amenities include a cafeteria with child-friendly food options, including brick-oven pizza; playrooms, teen spaces and family lounges on every inpatient floor, and an indoor children's garden.
CHoR improves the vitality of Richmond by: CHoR provides life-saving and life-changing health care to children in the Commonwealth, ensuring that they can receive the care they need close to home. As an academic medical center, CHoR also trains the next generation of caregivers and is dedicated to advancing children's health care through research.
CHoR is unique: It is a Level 1 pediatric trauma center as designated by the American College of Surgeons and the Virginia Department of Health (first in Virginia), and a Level 1 Children's Surgery Center by the American College of Surgeons Children's Surgery Verification Quality Improvement Program.
Upcoming events: Words & Wisdom supporting the new Children's Tower on May 18.
How I start the day: I get out of bed every morning and get a glass of iced tea, sit down and read emails, and catch up on the stock market.
Best late-night snack: Sugar-free popsicles.
How I unwind: Playing golf and going bird hunting.
Something I love to do that most people would never imagine: Movie night is something special. When something is out that I'm interested in seeing, I enjoy taking a bunch of people to dinner and the movies.
The best thing my parents ever taught me: Get out of bed and go to work.
The person who influenced me the most: Henry Valentine II through his work and personally.
What I'm reading now: "Hot Springs" by Stephen Hunter.
Next goal: Continuing to improve the services and care available at Children's Hospital of Richmond at VCU.