Like father and a lot like son
Druw Jones' baseball skills echo those of his dad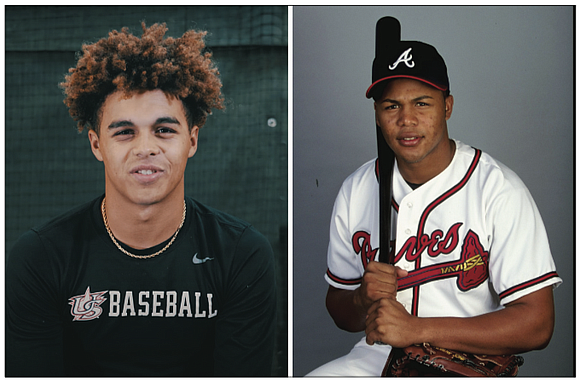 Richmond baseball fans may recall Andruw Jones as arguably the most talented player to ever suit up at The Diamond.
Now Jones' son, Druw Jones, has emerged as perhaps the hot- test prospect heading into the Major League draft to be held July 17 in Los Angeles.
A recent graduate of Wesleyan High School in Norcross, Ga., Jones is a 6-foot-4, 180-pound right-handed centerfielder (like his dad) who combines extraordinary speed and power (like his dad).
Druw is not a junior (Jr.). His full name is Druw Jones while his father is Andruw Rudolf Jones.
The younger Jones hit .455 this past spring while slugging 16 homers and spurring Wesleyan to a 35-5 record.
He was named 2021 Perfect Game National Defensive Player of the Year and to the MaxPreps.com All-America team.
He was timed in the 60-yard dash at a breathtaking 6.31 by Perfect Game. His exit velocity throwing from the outfield was clocked at 93 miles per hour.
Jones has committed to Vanderbilt but will almost surely opt for a pro contract.
Baltimore, Arizona and Texas will have the first three picks in the draft.
The older Andruw Jones played 31 memorable games in 1996 for the Richmond Braves while traveling the fast lane to the parent Atlanta Braves lineup. He was just 19 when he debuted at The Diamond.
In that brief showing, Jones hit .378 with five homers and 12 runs batted in while putting on a dazzling display of de- fense in center. Atlanta quickly beckoned and Jones helped the Braves get to the 1996 World Series that was won by the New York Yankees.
In six World Series games at age 19, he was eight for 20 with two homers against the Yanks.
The elder Jones went on to become a five-time National League All-Star and 10-times Golden Glove winner. He finished his career with 434 homers, 1,289 RBI and 152 stolen bases.
The younger Jones, 18, differs from his dad in regard to draft status. Undrafted, the elder Jones, who grew up in the Dutch Caribbean island Curaçao (where he was considered the best player on the island), signed as a free agent at age 16.