Community High alum lands role in AMC series
Holly Rodriguez | 7/28/2022, 6 p.m.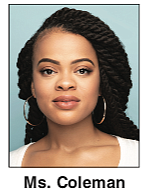 In August of 2021, Richmond native Kalyne Coleman got the call every young actor longs for: She got the part. On Oct. 2, Ms. Coleman will be seen in her first onscreen acting credit role as Grace de Pointe Du Lac in the AMC series "Interview with the Vampire." But it almost didn't happen.
Ms. Coleman said her parents set the foundation for her interest in acting — her mother is an avid reader and her father, a dramatic storyteller. But the acting bug didn't really hit until Ms. Coleman performed in a play at William Fox Elementary School as a student. Later, while at Richmond Community High School, she continued acting. But fearing the struggling actor stereotype could be her own story, she decided on a more stable career choice, enrolling at the University of Pennsylvania as a communications major.
As her undergraduate years were drawing to a close, Ms. Coleman was in the final rounds of interviews for a job that would have launched her nine-to-five career.
"I was so close," she said," and I asked myself, 'Do you really want this?" She said the answer was 'No,' because she knew she really wanted to pursue acting.
With the support of the person who was almost her boss and her parents, Ms. Coleman moved to New York and had multiple jobs from babysitting to working for a telephone company while figuring out her next step.
She applied to the master's in Fine arts program at Brown University and did not get in until the third time she applied.
"I encourage young people to follow their dreams because it is important to realize them," she said. "Keep pushing and believe in yourself because it can and will happen." She said she has nine nieces and nephews, with another on the way, and said she feels a responsibility to follow her dreams to be a good example for them to do the same.
Ms. Coleman's character Grace in the AMC series is the sister of the lead character Louis de Pointe du Lac, performed by Jacob Anderson. She said her character is present in five of the series' seven episodes, and from the time she first read the script she felt a connection to her.
"My superpower is to spread joy and light, so when I saw that was Grace's job in the family, I felt this character is a kindred spirit in a lot of ways," she said. "I felt so connected to who she was and her role in the family."
"Interview with a Vampire" is the title of a book written by Anne Rice. A movie adaptation of the book was released 1994.