'Scoop There It Is!' Nicci Carr now a star for GEICO
"French vanilla, rocky road, chocolate, peanut butter, cookie dough. Scoop, there it is. Scoop, there it is. Shaka-laka-chaka-laka-chaka-laka."
Former Richmond actress and dancer Nicci Carr has become a phenom, dancing in her role as Tasha in the hugely popular GEICO commercial featuring Atlanta-based old school hip-hop duo Tag Team and reworked lyrics to their hit song, "Whoomp! There It Is."
The spot, created by Richmond's Martin Agency, was released in December and has caught fire across the nation, with more than 14 million views on YouTube. It is currently the No. 1 ad in America, according to industry publications.
Danny Robinson, chief creative director of the Martin Agency, said they knew the kind of person they wanted for the commercial — an actor who could dance and improvise on the set.
"Nicci Carr is an improv actress," Mr. Robinson said. "She felt right for the idea" for the GEICO "What Are You Wanting" campaign by creative director Sean Riley and copywriter Roger Haile.
In addition to Ms. Carr and Tag Team duo Cecil Glenn and Steve Gibson, the spot also features Anthony Goolsby as her husband and Amethyst Davis as her daughter.
Life changed for Ms. Carr in October when she signed a non-disclosure agreement for a top-secret audition for the role of Tasha, a high-energy mom in her kitchen who starts dancing in the commercial.
She said her acting career had been a journey on a winding road, full of stops and starts and potholes. But she has never been out of creative gas as she stays in the extremely tough world of acting.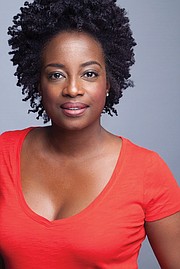 She said that winding road to becoming the darling of GEICO's most talked about television and social media ad started after moving from Bronx, N.Y., to Richmond's North Side with her mother, Evelyn Jamison, a now retired Richmond Public Schools nurse.
Ms. Carr attended what is now Barack Obama Elementary School in the early 1980s, where she was introduced to SPARC – Youth Performing Arts and would perform in various plays each year.
Her father, Willis Jamison, did not make the move to Richmond. He worked for Warner Music Group, WEA records, and had introduced his young daughter to many entertainers and people in the industry, including Mick Jagger, Captain & Tennille and actor-director Penny Marshall.
"My dad was in that industry and he always had music around," Ms. Carr said, recalling her life in New York.
She also remembered her father taking her to her first movie, "Grease."
"That opened my eyes to acting. That changed the trajectory of my life," Ms. Carr said. She said people at a drive-in theater got out of their cars and danced during the film.
Her family was driven by education, she said. Her aunts, uncles and cousins were teachers, principals, medical doctors and other professionals.
However, Ms. Carr was the family entertainer — singing, dancing and acting, which would get her out of youthful trouble with her family. She said she was a rambunctious and rebellious teen, who did not do well in school, but yearned to see her name in theatrical lights.
Ms. Carr attended Henderson Middle School and John Marshall High School, where she was awarded for her acting and dancing. Unfortunately, she failed academically and did not graduate.
After a manager at a McDonald's on Chamberlayne Avenue rejected her for a job because she didn't have a high school diploma, Ms. Carr, shocked but undaunted, went back to Thomas Jefferson High School, where she graduated with a diploma in 1990.
After finishing St. Paul's College in 1994, Ms. Carr moved from Richmond to Washington in 1996. Through a neighbor, she found a second-grade teaching position at Edison-Friendship Public Charter School in Northeast Washington.
At the same time, Ms. Carr continued working on her acting by practicing accents — English, Spanish and Australian — to perfect their authenticity and believability.
"I love teaching," Ms. Carr said. "I excelled (at teaching) using my performing arts. I used my acting to keep the students' attention even during math."
During a chaotic lunch period one day, Ms. Carr managed to mesmerize the rowdy second-graders when she took the stage in the lunch room and began a monologue with a perfect English accent.
"Tough crowd, 6- and 7-year-olds,"Ms. Carr said with a laugh, recalling how the youngsters quieted down and listened to her impromptu story told with an accent.
One student's father found out about her performance. He met with Ms. Carr and then contacted his brother, an actor in Los Angeles. His brother was impressed and suggested Ms. Carr head out to the West Coast to pursue acting.
"I bungee jumped out to Los Angeles in 2004," she said. The decision to go, she said, was made in church after hearing a sermon about Jesus telling his disciples to cast their nets out onto the water to catch fish.
In 2005, things started happening for Ms. Carr. She earned a series of background acting work — in "The West Wing" and "Beauty Shop" with Queen Latifah and her first national commercial with Toyota, followed by Rooms to Go and print advertising.
The next decade was bumpy, with a move to Atlanta, where she currently lives; a divorce, which she said drove her into a deep depression; and a recommitment to the acting profession.
Ms. Carr now splits her time between being a STEM coordinator at Georgia State University and finding the next acting opportunity.
"God has been on my side this entire journey," Ms. Carr said, reflecting on her newfound fame.