Sons and Daughters of Ham Cemetery rededication ceremony this week
7/28/2022, 6 p.m.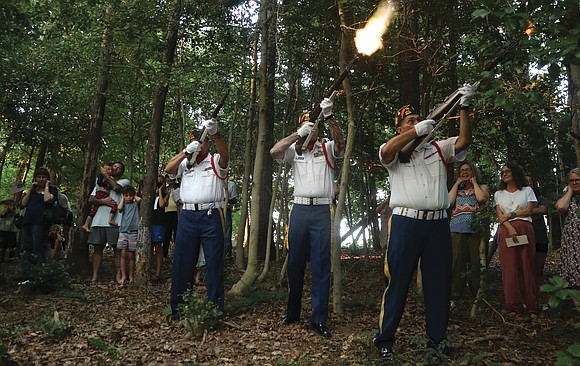 The Sons and Daughters of Ham Cemetery, a historic Black cemetery that neighbors the University of Richmond and the city's Bandy Field Nature Park, will be rededicated on Thursday, July 28, it has been announced.
The Rev. Jeannette Brown, an associate minister at Westwood Baptist Church, will conduct the 7 p.m. public ceremony at the burial ground that the post-Civil War fraternal group established in the mid-1870s.
The event also includes a wreath-laying ceremony honoring Private Moses Bradford Jr., a Buffalo soldier who is buried in the cemetery.
A member of the Bradford family that once owned what is now Bandy Field, he served with the 25th Infantry in the Spanish-American War, according to Carolyn Bradford Winston
Moten, a descendant and president of Friends of the Sons and Daughters of Ham Inc.
The Henrico Police Honor Guard is to cap the ceremony with a three-volley salute to the veteran.
The event is to include speakers on the history of the area.
Participants are to include Boy Scouts who have installed a footbridge on the site and joined volunteers from the University of Richmond and elsewhere to remove trees and overgrowth.
The cemetery had largely been forgotten after the last burial in the 1940s, as was the Sons and Daughters of Ham after the group merged with another Richmond fraternal group, the now defunct Independent Order of St. Luke that Maggie L. Walker once led.
In the 1950s, the Bradford family's residences next to the cemetery were wiped out when the city used its condemnation powers to acquire and raze the homes to make way for a school that was never built. The land, located in Henrico County, later became Bandy Field.
Interest in the cemetery was revived after UR sought to buy the property and ran into opposition from descendants of those buried in the cemetery.
Retired pharmacist Marianne R. Rollings of Richmond assisted Ms. Moten and other descendants to form the Friends group and begin the push for restoration.
Grants from the National Trust for Historic Preservation and the National Endowment for the Humanities have assisted the volunteer effort, the Friends of Sons and Daughters of Ham noted.