VUU football looking up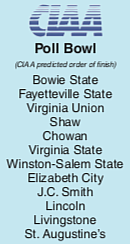 Expectations are high for Virginia Union University football this season.
Coach Alvin Parker's Panthers have been selected to finish third overall in the 12-school CIAA and second in the Northern Division in a poll conducted by head coaches in Charlotte.
Defending champion Bowie is picked first overall with Fayetteville State com- ing in second overall and first among Southern Division schools.
Earning All-CIAA preseason recognition for VUU were running back Jada Byers from New Jersey and defensive end Armonii Burden from Williamsburg.
Byers was sensational as a freshman, rushing for 910 yards, 12 touchdowns and a 5.4 yard per carry average.
Virginia State University, under new Coach Henry Frazier, was picked sixth overall and fourth in the Northern Division. Trojans' linebacker Zion Johnson from Woodbridge made the all-preseason squad.
Coming off a 6-4 campaign, VUU will open Thursday, Sept. 1 against Virginia University of Lynchburg at Hovey Field.
VSU will open Sept. 3 at Lenoir-Rhyne in Hickory, N.C.
Bowie won last year's CIAA title, defeating Fayetteville in the championship game. The Bulldogs then won two NCAA Division II playoff games before falling to Valdosta State in the quarterfinals.