Personality: Walter M. Dotts III
Spotlight on board chair of Branch Museum of Architecture
6/2/2022, 6 p.m.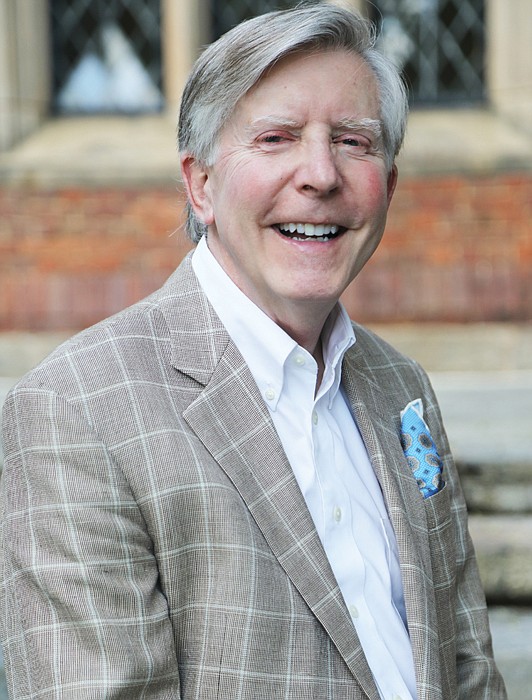 For Walter Maxwell Dotts III, the preservation and improvement of architecture and design in Virginia's capital has always been a family affair.
More than a century ago, Mr. Dotts' great-grandparents laid the foundation for the Branch Museum of Architecture and Design when it was just a family house in what is now Richmond's Monument Avenue Historic District.
Elected as the museum's newest board chairman Jan. 1, 2022, Mr. Dotts now wants to use his board leadership position to ensure that the museum's mission — to elevate "the awareness of the transformative power of architecture and design" — is fulfilled while also ensuring its long-term potential.
Mr. Dotts recalls that, as a child, he understood the significance of The Branch House, a 36,000-square-foot structure that was always "considered to be an asset meant to serve and benefit our city." He was a toddler when the house, built in 1919, was bequeathed to the city's Community Chest in 1954.
That mission of benevolence and service has remained a priority for Mr. Dotts, even during times of change and challenge.
As with many organizations, the COVID-19 pandemic has taken its toll on the Branch Museum, with no exhibitions running, no progress made on plans for the future and no funding generated as the museum effectively closed when the virus first emerged.
Becoming chairman of the board was one way Mr. Dotts believed he could help the museum move forward.
"I felt uniquely positioned to bring The Branch out of the pandemic and help determine the museum's future course," he says.
Federal emergency funding was critical to keeping the museum running, says Mr. Dotts. Although some aspects of the museum's operations are still recovering, he remains optimistic, despite rising levels of COVID-19 in Richmond and other areas.
"The way things have been going, people have seemed to want to get out," Mr. Dotts says. "I think that if we have to reinstitute masks or something like that, we will persevere and continue on with whatever condition seems to be appropriate."
Now in his sixth month as board chair, Mr. Dotts is hard at work with other museum employees to develop a strategic plan that reassesses the museum's past, examines its current position and explores its future capabilities.
Mr. Dotts sees the museum as a necessary and independent presence for Richmond's arts and cultural community that addresses needs and raises awareness in ways that differ from art installations tied to larger businesses or organizations. With recent developments in the local art design scene, he believes the Branch Museum will be integral to this growing movement in Richmond.
"It's incredible, the energy and particularly the design energy and creativity going on in this city," Mr. Dotts says. He points to The Martin Agency, the Brandcenter at VCU and other smaller-scale entities as contributing to Richmond's emergence as a place where design thrives.
"I really think that it's going to be incredibly important to have an institution dedicated to celebrating that sort of design creativity that is happening in Richmond."
Also, the museum's new executive director, Sharon Aponte, came aboard last August. She previously was deputy director for Collections and Curatorial Affairs and interim co-director at The Wolfsonian-Florida International University in Miami. While at The Wolfsonian, Ms. Aponte guided critically acclaimed programming, and co-led the development of a $16 million capital improvement project to expand the museum's footprint on Miami Beach and rehabilitate its two historic structures, according to a Branch Museum news release announcing her arrival.
Mr. Dotts is confident that the museum will continue to be important to design in Richmond, as it has been an important part of his family for generations.
"We are very optimistic," says Mr. Dotts when asked about the potential impact of his time as board chair. "We think that there's a need and that there is a void in the cultural landscape that we should and can fill."
Meet a generational art and design advocate, Walter M. Dotts III:
Volunteer position: Board chairman of The Branch Museum of Architecture and Design.
Date and place of birth: May 22 in Richmond.
Where I live now: Church Hill.
Education: Saint Christopher's School, bachelor's of arts in experiential psychology Brown University.
Occupation: Owner, Old House Authority, which helps preserve old houses and their stories.
Family: Wife, Jennie; daughter, Karen; granddaughter, Remy; large extended family.
The Branch is: The institution that will next affect the city's cultural landscape by reinforcing Richmond's role as a design center.
Location: 2501 Monument Ave.
Mission: To celebrate design in ways that inform and educate our community as to its essential role in our lives.
Brief history of The Branch: Built as John Kerr Branch's family home 1919; Given to the Community Chest by his daughter, Zayde Branch Rennolds, as its headquarters so that it would benefit the city in 1954. The house has come full circle to its present use as a design museum to educate and serve our community.
Its uniqueness: Setting the stage for our exhibits, the sophisticated design and construction, remarkable interior spaces and acoustics, and the exceptional craftmanship all complement our focus on design. In addition, its air of antiquity often serves as a counterpoint that accentuates the modernity of our exhibits.
My special relationship to The Branch: My great-grandparents built the house as a home for art and inspiration, which continues with our stewardship and the programs and exhibits we showcase.
Childhood memories: As a child, The Branch House was always represented as and considered to be an asset meant to serve and benefit our city.
Number one goal or project as the board chair: Lay out a program with unambiguous goals to propel The Branch into the future.
Strategy for achieving goals: Develop a strategic plan and setting out a course of action with definite steps carrying us forward (while) highlighting the inherent importance of design.
Inclusivity and The Branch: Diversity and an openness to new and different ideas and people are some of our most important goals.
Its importance: Only with diversity and inclusivity, allowing us to tap into the broadest possible constituency, will we be able to realize our mission and vision.
The Branch's biggest challenge: Our biggest asset is also one of our most expensive. Keeping up an aging 36,000-square-foot home has proven to be a real challenge.
What are you most proud of about The Branch: I am most proud of our team's dedication and professional approach to serving, educating and improving our community through the curation and examination of design in our programs and exhibits.
Least: How long it takes.
What makes The Branch one of a kind: We are the only independent institution in the region dedicated to celebrating design.
Richmond's history and The Branch: Since the end of the Civil War, the Branches have been integral to the growth and development of the city. From assisting Maggie Walker with her banking education, to providing the city with public baths, they have been committed to the well-being of our community. The Branch House is an indication of that commitment and success. And, the development of a museum of design in the house carries that commitment to the greater good into the future.
Monument Avenue and The Branch: In the past, the Branch House set the tone for the quality of design and construction, and now it is the only museum on Monument Avenue.
Upcoming exhibitions: "(Re) Framing Protest"— public opening 10 a.m. to 5 p.m. June 17; June 8 Webinar: Reshaping Concrete; and Juneteenth Picnic and exhibition tours on June 19 from 12 p.m. to 5 p.m.
How to become involved with The Branch: Become a member, attend our exhibitions and programs.
How I start the day: Our two rescue dogs wake us with tail-wagging enthusiasm, setting the tone for the rest of the day!
The three words that best describe me: Perseverance, fortitude and synthesis.
Best late-night snack: We dine much too late to consider a late-night snack.
How I unwind: Walking our dogs.
What I have learned during the pandemic about myself: Nothing I did not know before.
Something I love to do that most people would never imagine: Repairing my vintage sport cars.
A quote that I am inspired by: "While it is well enough to leave footprints on the sands of time, it is even more important to make sure they point in a commendable direction." — James Branch Cabell.
The best thing my parents ever taught me: My parents were forward-thinking people who taught me to seek the greater good.
The person who influenced me the most: My mother, who made me aware that one catches more flies with honey than with vinegar.
Book that influenced me the most: "The Odyssey" by Homer.
What I'm reading now: "The 1619 Project" by Nikole Hannah-Jones.
Next goal: To preserve The Branch and its role as a museum of design for coming generations.