(RE)Framing exhibit tells a story of community
Holly Rodriguez | 6/23/2022, 6 p.m.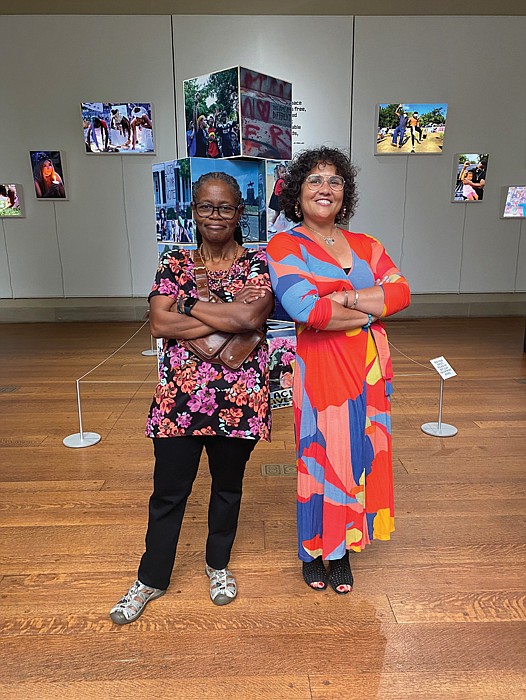 When George Floyd was murdered by Minneapolis Police in 2020, the world erupted in protest. As far away as Pretoria, South Africa, and Sydney, Australia, millions took to the streets demanding justice for Mr. Floyd, and other Black Americans and people of color around the world also killed by police.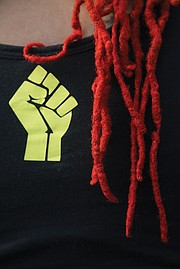 In the former capital of the Confederacy, Regina H. Boone and Sandra Sellars, both photojournalists for more than 20 years, were on the ground, among the protesters, capturing the historical moment as it unfolded for the Richmond Free Press.
"(Re)Framing Protest: Design + Hope," a current exhibit at the Branch Museum of Architecture and Design in collaboration with this newspaper, features images from those protests captured by Ms. Boone and Ms. Sellars. But the art they created goes beyond simply chronicling what happened during those 65+ days.
"The show represents the communities that were created there, and we were sensitive to that," Ms. Boone said." There is still work to be done and we are a part of that work as photojournalists."
Art and Community
While there has been plenty of coverage of the tensions and even violence that often erupted between protestors and police, violent, sensationalist images are not the focus of this exhibit. Rather, a key component of the images presented is the unpredicted sense of community that emerged during the protests. The art is a contemplative space of remembrance celebrating that community for visitors to observe without triggering or causing harm.
A native of Richmond, Ms. Sellars said she had never seen such a unified, diverse group of people in a campaign as intense as the protests of the summer of 2020. And, she did not anticipate the longevity of the protests.
"From the first day, I knew it was a big deal, because it was so huge that first night, with thousands of people, of all hues," she said. "But I did not expect it to last as long as it did."
Ms. Boone was born in Richmond, but her family relocated to Baltimore when she was just seven years old. In some ways, she said, she feels like a Richmonder and in other ways she does not, since she did not grow up here. But she knew the protests were unlike anything Richmond had ever seen before. "We knew this was not a fleeting moment; that we were witnessing and documenting history," she said.
Ms. Sellars said Ms. Boone said they both felt the sense of camaraderie the activism created, particularly at the former site of the Robert E. Lee statue on Monument Avenue. The area has been unofficially renamed Marcus David Peters Circle for the 24 year-old Black man who was shot and killed by police in 2018 as he had what has been called a mental health crisis.
"People would camp out, cook out and commune there" and when others realized this was not going to be [short-lived], church leaders and other people started to show up." Ms. Sellars said.
Creating Space
Although protests and a museum focused on architecture and design may seem an odd paring, Walter M. Dotts III, chair of the Branch museum, sees a direct connection. He said the museum, which once was the home of his great grandparents John Kerr and Beulah Branch, is focused on showing the public how design influences everything around us.
"Looking at the protests through the lens of design was an important way of showing what happened [that summer]," Mr. Dotts said. "
The history of social justice in this country has been torturous and long and Virginia, Richmond and Monument Avenue play important roles in that history."
Nichole Christian worked with Ms. Boone, Ms. Sellars and the Branch museum to coordinate gathering the essential elements of the exhibit. A researcher and writer, she developed the name of the show, did research, and wrote the panels that accompany the exhibit.
"I helped the Branch museum team find a lens for the show, talked with Regina and Sandra and went back through the news itself," she said. "The photos ask, and in some ways show, beautiful possibilities in the midst of trauma . . ."
The exhibit is representative of a moment in time when Richmonders came together, stood up for justice and created a community space to cultivate strength and demand change.
The exhibit will run through Sept. 11. Admission is free with a suggested donation of $5.