Exhibit features works of Free Press photographers
6/16/2022, 6 p.m.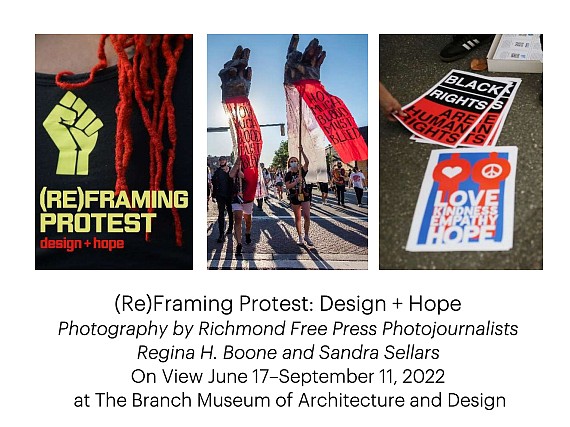 The summer of 2020 was a turning point in the history of Richmond and the nation. Richmond activists joined others across the country and around the world to protest the murder of George Floyd and amplify the Black Lives Matter movement.
And who was there to capture these moments? The Richmond Free Press' own Regina H. Boone and Sandra Sellars.
Their photos are the focal point of an exhibit, (Re) Framing Protest: Design + Hope, at The Branch Museum of Architecture and Design on view June 17 through Sept. 11. Ms. Boone and Ms. Sellars will lead tours of the exhibit at 1 p.m. and 3 p.m. Sunday, June 19.
Ms. Boone and Ms. Sellars spent 65 consecutive days documenting the 2020 protests in Richmond. "Covering this news as it unfolded was life-changing, something I'll never forget," Ms. Sellars said.
Visitors to the exhibit will have the opportunity to respond to their work by leaving signed and/or anonymous remembrances, ideas and visions for Richmond.
According to The Branch, through this intentional and focused community engagement, the exhibit sets for the belief that Richmonders' voices have the power to uniquely reframe the narrative of Monument Avenue into a more daring vision that includes hope for a safe community-centered common ground shaped by and reimagined for all.
The Branch is located at 2501 Monument Avenue. The museum is open 10 a.m. to 5 p.m. Monday through Saturday. Information: (804) 655-6055 or branchmuseum.org.