Petersburg's legendary basketball coach Carl Edward Peal dies
Moses Malone was among the players he helped shine Benedictine's Starlings heads to Chapel Hill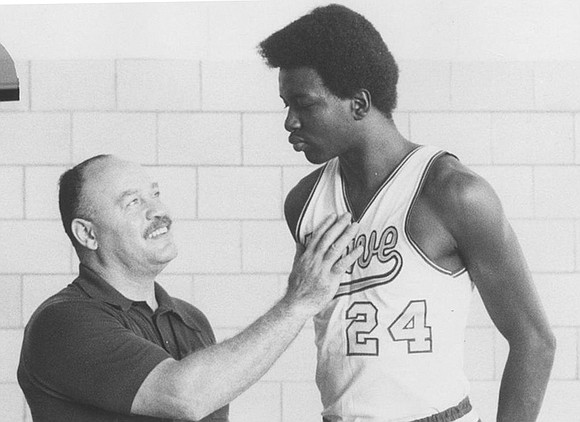 Carl Edward Peal, perhaps known best as being Moses Malone's basketball coach at Petersburg High School, died Thursday, May 16, 2022. He was 94 and living in Richmond.
With Mr. Peal in charge on the sidelines and Mr. Malone dominating on the floor, Petersburg won the 1973 and 1974 State Group AAA titles. The Crimson Wave went 50-0 over the two seasons combined, with few close games.
Mr. Peal retired as coach following the 1974 season but remained at PHS as an administrator.
Born in 1927, Mr. Peal coached various sports at Petersburg's segregated Peabody High. His squads were 214-59 overall from 1956 to 1970. That included a VIA Group A title in 1960 when Peabody topped Maggie Walker in the finals.
Mr. Peal also coached golf at Peabody, winning the VIA state crowns in 1963, '64 and '65.
After integration of Virginia's public schools in 1970, Mr. Peal became head basketball coach at Petersburg High, where he raised the program to national prominence.
In his first season as PHS head coach, with Mr. Malone a sophomore, the Wave went 17-3. His overall mark for Petersburg 67-3.
Mr. Peal was the epitome of being cool, calm and collected on the bench, but he was regarded as an excellent strategist and strict disciplinarian.
Those were exciting times for area hoops fans.
Mr. Malone was clearly the top college prospect in the nation and everyone wanted to see him play. PHS games were moved from its small gym on Washington Street to nearby Virginia State University, where crowds of 4,000-lus became common.
In both '73 and '74, the PHS semifinal and finals games drew overflow crowds at the State tournament at the University of Virginia.
As great as Mr. Malone was, he wasn't a one-man team. Even without Mr. Malone, the Wave would have been a contender for top honors with the likes of Michael Howard, Tassels Taylor and Morris Fultz, Mr. Malone's cousin.
Mr. Malone, who went on play in both the American Basketball Association and the National Basketball Association from 1974 through 1995, led the Philadelphia 76ers to an NBA championship in 1983, winning both the league and Finals MVP.
As fate would have it, Mr. Malone died before his beloved coach, Mr. Peal, in 2015.
In his later years, Mr. Peal was a familiar figure around Richmond attending Summer League games at Ben Wallace Gym and also at John Marshall High School.