Juneteenth events and weekend activities
6/9/2022, 6 p.m.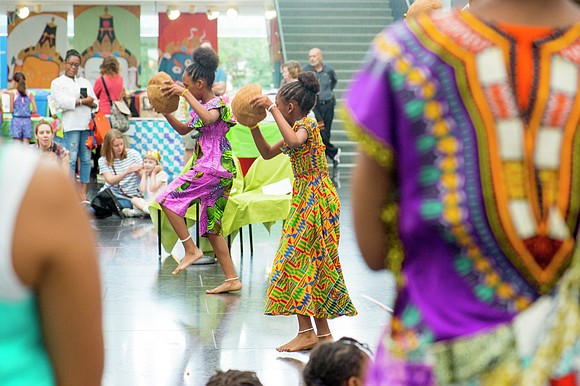 Richmond area residents who plan to participate in events and activities that will commemorate Virginia's Juneteenth holiday have several choices. The federal holiday is on June 20.
Recognized as the oldest national commemoration of freedom from slavery in the United States, the holiday highlights June 19, 1865, the day enslaved people in Galveston, Texas, were informed by Union troops that they were free. The information was purposely kept from them for 21⁄2 years after President Lincoln signed the Emancipation Proclamation prior to the end of the Civil War.
Following is a list of Richmond area Juneteenth activities and programs:
Saturday, June 11, 11:30 a.m. – African and African American Art: Global Community Family Day, Virginia Museum of Fine Arts
The Elegba Folklore Society's dance-theatre presentation of lifestyles, folklore, language, family, spirit and more is designed for diverse audiences to develop a greater appreciation for heritage. Elegba's learning experience continues 7 p.m. June 11 with the "Torch Lit Night Walk Along the Trail of Enslaved Africans" at the Manchester Dock, 1308 Brander St. Interpreters will interweave the narratives of enslaved Africans with the historical record, characterizations of the day and music. This program is free and open to the public.
Sunday, June 12 at 2 p.m. - Shockoe Hill African Burying Ground Historical Highway Marker Unveiling Ceremony, a celebration of the unveiling of a state historical marker at the Shockoe Hill Burying Ground. Along with music, the event will include Richmond Mayor Levar Stoney, Council Vice President Ellen F. Robertson, 6th District, and public historian Ana F. Edwards, chairwoman, Sacred Ground Historical Reclamation Project. The ceremony will be open to the public and will take place at the Shockoe Hill African Burying Ground, 1305 N. 5th St.
June 16 - June 18, The Exclusive Blacklist Weekend, a celebration of wine, spirits and food, will feature jazz and premier chefs in the Richmond area.An event highlight includes the RVA Wine Crawl where attendees can meet five chefs who will prepare small plates paired with wine, beer, cider or a cocktail. The event's location is 1500 E. Main St. Information and tickets are available https://www.eventbrite.com/e/the-exclusive-blacklist-weekend-tickets-338278509127?aff=ebd ssbdestsearch.
Saturday, June 18, Dorey Park
Henrico County will host a vendor fair, kids' zone, food trucks, entertainment and fireworks. Events are free and open to the public beginning at 4 p.m. Fireworks start at 9:15 p.m. Dorey Park is located at 2999 Darbytown Road. No registration is required.
Sunday, June 19, Juneteenth Program: The Long Walk Home
Author and speaker Danita Roundtree Green will discuss transformational life narratives and lead a storytelling activity designed to reduce generational trauma. Ms. Green also will sign and sell copies of her work, including "Grandmothers Gift of Memories: A Family Keepsake." The event is at 1 p.m at the Atlee Branch Library, 9212 Rutlandshire Drive, Mechanicsville. Registration is required by visiting @pamunkeylibrary.org.
Sunday, June 19, 11 a.m. - The Hardywood Park Craft Brewery
Festivities will include live music, dance performances by the award-winning youth modern dance company City Dance Theatre, and food catered by Charles Kitchen Caribbean Cuisine, K&M Salmon Balls and Cakes, and the Hardywood Pizza Kitchen. Hardywood is located at 2410 Ownby Lane.
Sunday, June 19, St. Peter's and St. John's Episcopal Churches will host a joint service featuring songs, prayers and fellowship at 8:30 a.m. Beginning at 9:30 a.m., participants will walk 1.5 miles from St. John's, 2401 E Broad St., to Peter Paul Development Center, 1708 N. 22nd St. for a 10:30 a.m. worship service led by the Rev. Nathan Walton. Lunch will be served after the service. Reservations may be made eventbrite.com/e/juneteenth-freedom-day-tickets or by emailing The Rev. Dr. Dorothy White, Interim Vicar, St. Peter's Church, revdrdoro- thyawhite@gmail.com.
Sunday, June 19, the 2nd Annual Juneteenth Block Party Festival will include more than 100 Black-owned businesses through live music, dance, food spoken word, games and more. The free event is from 12 p.m. to 10 p.m. at the Richmond Diversity Center, 1407 S. Sherwood Ave.
Compiled by Donald J. Adams