Trojans' first home game to cover new turf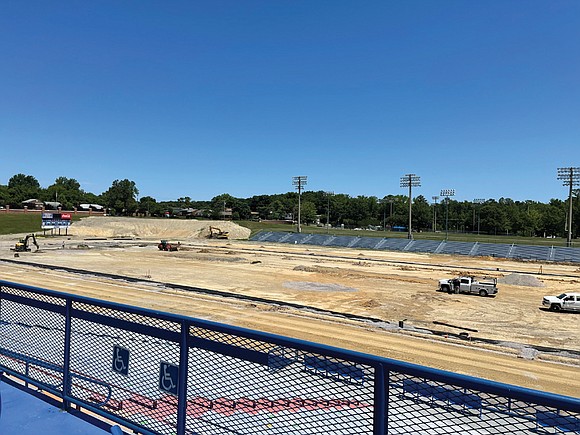 Virginia State University will have a new football coach and a new football field to start the 2022 season.
When the Trojans open Sept. 10 against West Virginia's Bluefield State College at Rogers Stadium, Henry Frazier III will be the head coach. Coach Frazier replaced Reggie Barlow, who was 34-16 in five seasons in Ettrick.
Also, a synthetic field will replace the grass field that the Trojans have played on for decades.
Surrounding the football field will be a new state-of-the art polyurethane track. VSU, coached by Wilbert Johnson, has hosted the CIAA track meet for many years.
Construction on the new facilities began right after the Trojans' last spring football game.
VSU was 3-6 overall and 3-4 in the CIAA last season. The Trojans opted out of the 2020 season due to the pandemic.
Under Coach Frazier, the Trojans will open the 2022 season on the road Sept. 3 at Lenoir-Rhyne University in Hickory, N.C. Bluefield State will be the home opener challenger.
VSU is following an HBCU trend. Archrival Virginia Union opened the 2021 season with an artificial field of its own named Willie Lanier Field at Hovey Stadium.
Norfolk State of the MEAC introduced an artificial field in 2018 for Dick Price Stadium. Hampton University of the Colonial Athletic Association also has played on an artificial field at Armstrong Stadium for several years.