John Marshall High School's Class of 2022
6/16/2022, 6 p.m.
Richmond Public Schools' Class of 2022 started high school two years before the COVID-19 pandemic and spent part of the last two years as virtual learners. Now equipped with perseverance and resilience, these new graduates are primed for their next chapter.
During John Marshall High School's 141st commencement ceremony on Monday at The Diamond, in the photo above, graduates Ayana Hukeless, left, Trinity Franklin, center, and senior class president, Essence Staten-Jones are all smiles after receiving their diplomas. The young women plan to continue their education, with Ayana enrolling at Reynolds Community College, Trinity heading to Old Dominion University, and Essence attending North Carolina A&T.
Below left, excited family and friends share their pride in seeing John Marshall High School's newest graduates march across the stage.

At right, Champaine Diamond Denise Glover covers her eyes in tears as she is embraced by Monica Murray, John Marshall High School's principal, while accepting her diploma. Richmond Public Schools Superintendent Jason Kamras looks on while celebrating each student during the ceremony.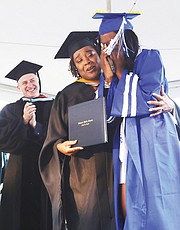 On Tuesday night, Mr. Kamras reported that he was diagnosed with COVID-19. In a tweet, he wrote: "2+ yrs, I just tested positive for COVID-19 for 1st time. I'm so disappointed that I won't be able to attend the rest of our graduations. My colleague J. Austin Brown will accept the graduates for me. To the Class of 2022, I'm SO proud of you and love you very much!"