Personality: William F. 'Bill' McGee
Spotlight on president of Richmond Chapter, Southern Christian Leadership Conference
3/17/2022, 6 p.m.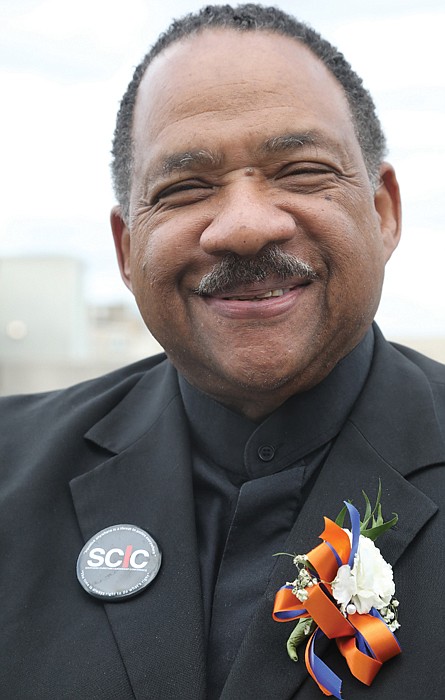 William F. "Bill" McGee's life has been closely connected to the fight for civil rights.
While born in Richmond, he spent his youth in Atlanta, attending elementary school alongside Yolanda King and Martin L. King III, the children of Dr. Martin Luther King Jr. He graduated from the same high school Dr. King attended – historic Booker T. Washington High in Atlanta – and later taught at Dr. King's alma mater, Morehouse College.
He also attended Ebenezer Baptist Church, the historic church in Atlanta where Dr. King and his father both were pastors.
He participated in marches and other social justice actions as a youth.
Fast forward a few decades and Mr. McGee is now president of the Richmond Chapter of the Southern Christian Leadership Conference, a civil rights organization started by Dr. King and other pastors in Atlanta in 1957 that is committed to nonviolent action to achieve social, economic and political justice.
As president, a role he took on Feb. 11, Mr. McGee is looking to tap into the same enthusiasm for progress and equality among the youths that powered the movement he has been immersed in for much of his life, and to sustain the organization for future generations.
"The SCLC is too important to the civil rights community to fade away," says Mr. McGee when asked why he accepted the top volunteer job with the local chapter. "We need a strong SCLC, NAACP, CORE (Congress of Racial Equality) and Urban League just as much now as we did in the 1950s and 1960s."
To ensure Richmond SCLC's strength and future, Mr. McGee is seeking to increase youth membership and to get younger Richmonders involved in addressing and combating injustice.
To reach this goal, Mr. McGee and the local SCLC chapter want churches and other local organizations to sponsor at least seven youth members from each congregation in the city and the surrounding counties. They're also reaching out to fraternity and sorority groups to encourage college students to sign up with a commitment to activism, community service and social justice.
"We are going to lead the nation in revitalizing the organization by getting youth involved, empowering them, motivating them and allowing them to lead the way," Mr. McGee says.
"We will be talking to youths groups about the importance of activism and advocacy in the face of bigotry, injustice, voter disenfranchisement and violence being perpetrated every day in Central Virginia and all around the country," he says.
Mr. McGee says voter registration, education, mobilization and motivation are major focuses for the current year. With the midterm elections in November and potential redistricting further shifting the balance of power statewide, Mr. McGee is intent on the organization doing its part to "offset the damage done in the most recent election, and prevent any further decline in Virginia's progress.
A major membership drive is set to begin during the first week of April, Mr. McGee says.
"Bigotry and hatred have been used to oppress and intimidate people of every color, religion, gender preference or culture," Mr. McGee says. "Everyone benefits when people stand together against discrimination and injustice."
Meet the newest leading local voice in the fight for civil rights, William F. "Bill"McGee:
No. 1 volunteer position: President, Richmond Chapter of the Southern Christian Leadership Conference, or SCLC.
Occupation: Educator, musician and activist.
Date and place of birth: 1952 in Richmond.
Where I live now: Richmond.
Education: Booker T. Washington High School in Atlanta; Morris Brown College, Atlanta; bachelor's in music, Virginia State College; and master's in education, Norfolk State University.
Family: Wife, Wanda Tisdale McGee; three children; and nine grandchildren, including 12-year- old triplet boys.
Southern Christian Leadership Conference is: A civil rights organization.
National president: Dr. Charles Steele Jr.
When and why SCLC Richmond chapter was founded: Like all the chapters and local affiliates, the Richmond Chapter was formed to address discrimination and the Jim Crow-era prejudice and bigotry that were rampant in this, the birthplace of the Confederacy and the nation. Segregation was strong in Virginia as was the determination to stand up and address the injustice in a nonviolent manner. Dr. King spoke in Richmond one week after the Montgomery bus boycott ended successfully. It was just three weeks later that the SCLC was founded in Atlanta by Dr. King and representatives from 10 states, Virginia being one of the original states with representatives in attendance.
Richmond founders: The foundation of the SCLC in Central Virginia points to the Rev. Milton Reid, Dr. Samuel D. Proctor, Rev. Curtis Harris, Rev. Wyatt Tee Walker and other notable established ministers from Richmond who worked with and supported Dr. King on his many trips to Virginia Union University, Virginia State College (now University) and the cities of Richmond, Petersburg and Hopewell throughout the 1950s. Many of the Richmond movement leaders were first members and active in the NAACP, the Virginia Teachers Association and the Richmond Crusade for Voters. All of these organizations contributed to Virginia's involvement in the SCLC, which was founded in 1957.
SCLC Richmond chapter and Dr. King: Since the early 1950s, Dr. King and Richmond, Petersburg and Hopewell were closely associated. In 1953, a very young Dr. King came to speak in Richmond at VUU where he met the Rev. Wyatt Tee Walker, Rev. Milton Reed, Rev. Walter Fauntleroy and Dr. Samuel DeWitt Proctor. At that time, a great bond was formed that is documented in the many personal letters he shared with these colleagues. A special friendship was formed with Rev. Walker and Rev. Curtis Harris that lasted until Dr. King's assassination in April 1968 in Memphis.
No. 1 goal or project as SCLC president: To increase youth membership and to empower youth to get involved in ad- dressing injustice by voting and standing up for their rights.
Who benefits from SCLC Richmond Chapter: Everyone benefits when people stand together against discrimination and injustice. While the SCLC is a Christian-based organization, we stand with other organizations, not based on race, gender or religion, because while it may be this person today, tomorrow it could be your child or your family member. Bigotry and hatred have been used to oppress and intimidate people of every color, religion, gender preference or culture. The labor movement has proved that we all benefit when we stand together in solidarity.
How the SCLC's Richmond Chapter seeks to remain relevant in 2022: We're going to have to turn out voters all over the Commonwealth to offset the damage done in the most recent election. It should be noted that the young progressive incumbent delegate in Petersburg, a Virginia State University graduate, lost by only 512 votes. That should never have happened.
A perfect day for me is: Spending quality time with my family, working on a fix-it project and having a little time left over to work on music in the studio.
What I am learning about myself during the pandemic: I don't need most of the clothes I own. I haven't worn a pair of Stacy Adams in two years.
Something I love to do that most people would never imagine: I am a Mister Fix-it. I like to fix any and everything around the house and on the cars. I've rebuilt engines, torn down walls and remodeled a bathroom. I repair computers and all types and kinds of technology. I recently repaired several items of furniture that the kids broke. I have been a vegetarian since 1977.
Quote that inspires me: "To whom much is given, much is required."
Friends describe me as: Straightforward and direct. I sometimes have a sharp tongue. They also know I have a kind heart.
At the top of my "to-do" list: Finish my fifth solo CD as a jazz artist and write a book on the HBCU influence on the entertainment industry.
Best late-night snack: Ginger ale and a small Hershey's chocolate bar or a Reese's Peanut Butter Cup.
Best thing my parents ever taught me: That growing up without two parents is rough on a kid and that education is the great equalizer. I am a fourth-generation HBCU graduate.
Person who influenced me the most: My grandmother, Lorraine Odom Wiggins, a 1923 graduate of Shaw University.
Book that influenced me the most: "Nigger: An Autobiography" by Dick Gregory and Robert Lipsyte and "Things Fall Apart" by Chinua Achebe.
What I'm reading now: "I'd Still Say Yes: A Dreamers Account of Surviving the Entertainment Business" by Joyce Irby and "Then There Was One" by Ray N. Smith Jr.
Next goal: Promoting prostate cancer awareness and PSA testing. I am a seven-year cancer survivor.