Brenda Howlett Melvin, retired educator, dies at 76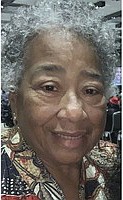 Brenda Eulalia Howlett Melvin, a retired educator described by her family as "a ray of sunshine" and a person "who loved to celebrate everything and everyone," died Monday, March 21, 2022, in a local hospital.
Mrs. Melvin taught and served as a guidance counselor for 33 years, mostly at Southampton Elementary School in Richmond. She was 76.
Family and friends celebrated the Richmond native's life Monday, March 28, at First Baptist Church of South Richmond, where she was an active member and participated in the Book Club.
Known to friends as "Cal" or "Caledonia," Mrs. Melvin grew up in South Richmond and began her education career after graduating in 1968 from Virginia Union University, where she also joined Zeta Phi Beta Sorority.
Mrs. Melvin started teaching elementary grades at Southampton Elementary, where she earned Teacher of the Year honors. She later became a guidance counselor after earning her master's in counseling from Virginia State University.
The mother of two, Mrs. Melvin "loved her students as her own and served as a mentor and role model to all of them," her family said. "Her infectious love for education impacted every student and person she encountered."
She retired around 2001 after 33 years.
She was active in the Richmond, Virginia and National Education associations.
Prior to joining First Baptist Church, Mrs. Melvin had been active in Swansboro Baptist Church, where she taught Sunday School and Vacation Bible School and served as a Girl Scout troop leader.
Survivors include her husband, Matthew L. Melvin Sr., two children, Matthew L. Melvin Jr. and MiVida M. Parham; sisters, Portia H. Turner and Eva H. Williams; six grandchildren; and two great-grandchildren.