Retiring HU president offers advice to graduates
Randy Singleton | 5/12/2022, 6 p.m.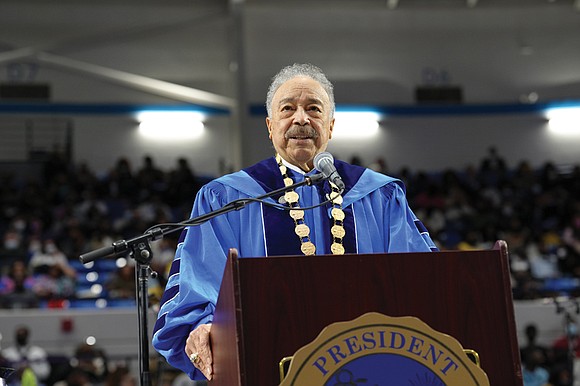 Hampton University's 152nd annual commencement celebrated graduates as well as the 44-year tenure of HU President William R. "Bill" Harvey, who is retiring on June 30.
Dr. Harvey, 81, served as the keynote speaker for the commencement, which was held on Mother's Day at the Hampton University Convocation Center on campus.
Dr. Harvey highlighted a long list of accomplishments made by the university under his stewardship, such as the creation of the Hampton University Proton Therapy Institute to treat cancer and increasing the university's endowment from $29 million to more than $400 million today.
Dr. Harvey told the graduates, "Don't settle with being the employee; I want you to be the employer. Don't settle with representing the firm or corporation; I want you to own the firm or corporation. See the horizon as not a limit, but an invitation…."
He offered grandfatherly advice to graduates, ranging from the financial -- "Pay yourself first. Save something from every single paycheck. Buy some property"– to the social – "Stay away from drugs and drug dealers. They will destroy your life or make it miserable."
Dr. Harvey went on to tell graduates to "fight racism every time it arises" and to "be positive role models. Be somebody."
He closed out his address by telling graduates to support Hampton University with their money.
During the ceremony, Rashida Jones, who became the first Black woman to lead a cable news network when she was named president of MSNBC in February 2021, received the Outstanding 20-Year Alumna Award. The Henrico High School graduate earned a bachelor's degree in mass media arts from Hampton University in 2002. Earlier this year, she launched the Rashida Jones Scholarship Fund for journalism students at the university.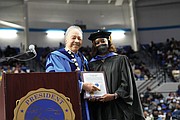 Thomas Hasty III, senior executive vice president and chief regulatory risk officer of TowneBank, received the Outstanding Alumnus-at-Large Award. He graduated from HU in 1977 with a degree in business.
Honorary degrees were awarded to former Virginia Supreme Court Justice John Charles Thomas, who was the first Black named to the state's highest court in 1983, and Christopher Newport University President Paul S. Trible Jr., who represented Virginia in the U.S. Senate from 1983 to 1989.