Washington Commanders hope to score big this season with new draftees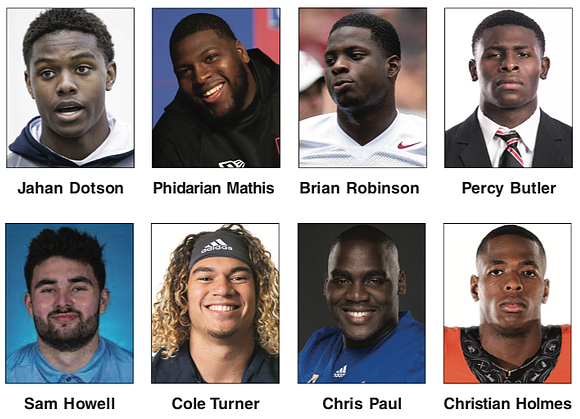 The NFL team in Washington has been spinning its wheels for years. The club now called the Commanders has gone 31-50 since its last winning season in 2016 (8-7-1).
Loyal fans of the burgundy and gold are hopeful a fresh crop of newcomers will enable the franchise to shift back into gear and return to the glory days of the 1980s and 1990s when Washington won three Super Bowls.
The NFL Draft was held April 28 through 30 in Las Vegas. The Commanders have rolled the dice and are hoping to "get lucky" with these draftees.
First round: Jahan Dotson (wide receiver, Penn State). The 16th overall pick hopes to turn up the volume on a much too quiet offense in D.C. He knows the way to the end zone, scoring 25 touchdowns for the Nittany Lions.
Second round: Phidarian Mathis (defensive lineman, University of Alabama). Roll Tide. The 6-foot-4, 312-pound former Alabama captain raised his stock with an outstanding showing at the Senior Bowl.
Third round: Brian Robinson (running back, Alabama). 'Bama, again. Robinson was at his best at the 2021 Cotton Bowl, rushing for 204 yards against Cincinnati and winning the MVP Award.
Fourth round: Percy Butler (safety, University of Louisiana- Lafayette). Stirs memories of the 1990 draft when Washington picked Ragin' Cajun Brian Mitchell, who became one of franchise's all-time greats.
Fifth round: Sam Howell (quarterback, University of North Carolina). Passed for 10,283 yards and 92 touchdowns at UNC. He will challenge newcomer Carson Wentz and returnee Taylor Heinicke for quarterback snaps.
Fifth round: Cole Turner (tight end, University of Nevada): The 6-foot-6, 246- pound athlete will start off no more than third on the depth chart behind Logan Thomas and John Bates. His 10 touchdowns were second most in the nation last year among tight ends.
Seventh round: Chris Paul (guard, University of Tul- sa). Not to be confused with the NBA star of the same name, this larger Chris Paul — 6-foot-4 and 313 pounds — was selected to the NCAA Committee for Cultural Diversity and Equity.
Seventh round: Christian Holmes (cornerback, Oklahoma State). Scored very high (9.1 on 10.0 scale) in Relative Athletic Score (RAS). He could help on special teams and as "nickel back."
You never know. You can't judge a player by his draft pick any more than you can judge a book by its cover.
Let's start with first rounders. Defensive tackle Bobby Wilson (drafted 17th overall, 1991), receiver Desmond Howard (picked fourth in 1992), quarterback Heath Shuler (chosen third in 1994) and Josh Doctson (drafted 22nd overall in 2016) were all busts inside the Beltway.
On the other side, Larry Brown (eighth round, 1969) became one of Washington's all-timers; Monte Coleman (11th round, 1979) helped D.C. to three Super Bowls; and London Fletcher (undrafted) went on to set an NFL record for most consecutive games played by a linebacker.
Sometimes a team has to get a little lucky to find what it's looking for.