Liberty's Malik Willis and VSU's Will Adams hoping to hear their names called in NFL draft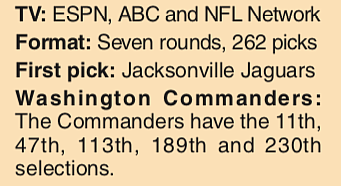 The much-anticipated NFL draft starts Thursday, April 28. Two state players to watch for are Malik Willis and Will Adams.
A gifted dual-threat quarterback from Liberty University in Lynchburg, Willis is a likely first round selection.
Adams, a safety from Henrico County's Hermitage High School and Virginia State University, is much more of a long shot, but could hear his name called on the third day.
The 21st century NFL draft track record for athletes from historically Black schools is poor, but Adams turned a lot of heads at the HBCU Combine in Mobile, Ala., in late January.
Willis and Kenny Pickett, the ACC Player of the Year out of the University of Pittsburgh, figure to be the first two quarterbacks chosen. Matt Corral of the University of Mississippi is another expected to be selected in the first two rounds.
The 6-foot, 225 pound Willis, a native Georgian who transferred to Liberty University from Auburn University, threw for 2,857 yards and 27 touchdowns last season, while also running for 878 yards and another 13 touchdowns.
Willis was MVP of the Cure Bowl in 2020 and the Lending Tree Bowl this past fall. He is compared to Russell Wilson, and many agree he has a chance to be the NFL's next outstanding Black quarterback.
Liberty has one previous first round draft pick. In 1990, the Pittsburgh Steelers selected Flames tight end Eric Green in Round One; he was picked 21st overall.
Adams was a four-season starter at VSU under Coach Reggie Barlow and earned All-CIAA this past fall on the strength of 61 tackles in nine games and some fly-paper-style sticky pass coverage.
An electrical engineering major, Adams was a show stealer at the HBCU Combine with his big-time skill set. The 6-foot-1, 186-pound Adams ran the 40-yard dash in 4.57 seconds, did 21 bench press repetitions at 225 pounds, recorded a 10-foot-3 standing broad jump and 40.5-inch vertical leap.
He's hopeful of becoming the VSU Trojans' first NFL draftee since Trenton Cannon went to the New York Jets in the sixth round of the 2017 NFL draft.
Before Cannon, VSU's last draftee was Kelvin Kinney in 1996 in the sixth round by the Washington NFL team.
Overall, there has been only one draftee from an HBCU in the last two years. Even if Adams' name is not called, he might be a high priority free agent.
Party time: The NFL draft has become almost like a mini Super Bowl for serious fans. In some ways, the draft is even more appealing because all 32 teams are involved and not just the Super Bowl finalists.
First to go: The Jacksonville Jaguars likely will lead off by taking one of two defensive linemen, Aidan Hutchinson from the University of Michigan or Travon Walker from the University of Georgia.
HBCU hopefuls: Aside from VSU's Adams, a player to watch will be Alabama A&M University quarterback Aqeel Glass. The 6-foot-5 Glass was a two-time SWAC Player of the Year and a two-time Deacon Jones Player of the Year, an award going to the nation's top HBCU player.
What the 5-foot-7, 175-pound Ezra Gray lacks in size, he makes up for with speed and elusiveness. The Alabama State University standout could make the NFL as a combo running back/ slot/kick returner. He reminds some of former North Carolina A&T State University mini-back Tarik Cohen who played with the Chicago Bears.
Fayetteville State University pass rusher Keyshawn James is another to catch the NFL scout's eye. The 6-foot-3, 280-pound All-CIAA pick had 23.5 tackles for losses last season with 10.5 sacks, seven quarterback hurries and four forced fumbles.
History: This will be the 87th NFL draft and times have changed. Before the NFL paid big money, the very first pick in the 1936 draft, by the Philadelphia Eagles, was halfback Jay Berwanger out of the University of Chicago.
Berwanger could not come to terms with the Eagles who then traded his rights to the Chicago Bears. When Chicago couldn't sign him either, Berwanger scrapped his pads and went to work for a rubber company in Chicago.
Stakes are higher now. Last year's No. 1 draft pick, quarterback Trevor Lawrence out of Clemson University, inked a four-year contract with the Jacksonville Jaguars worth $36.8 million, including $24.1 million guaranteed.