VSU wins inaugural baseball tournament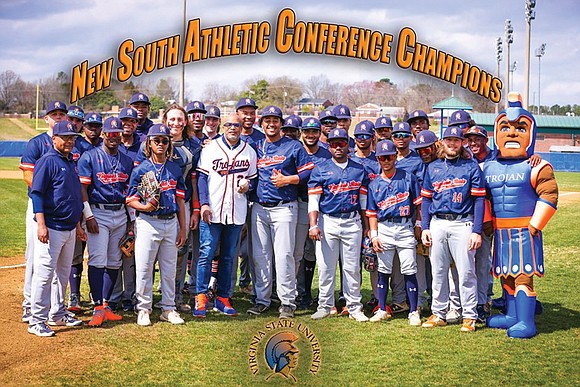 Virginia State University followed a rocky flight of a baseball season with a smooth landing.
Coach Merrill Morgan's Trojans recently won the inaugural New South Atlantic Conference tournament by capturing a hard-to-believe four games in one day.
VSU went 18-28 during the regular season. Due to lack of participating schools, there was no CIAA tournament this spring, opening the door for a new baseball-only conference.
Here's what happened May 10-11 in Elizabeth City, N.C.
May 10: VSU defeats Thomas Nelson Community College of Hampton, 5-4.
May 11, 10 a.m.: VSU loses to Apprentice School of Newport News, 18-6. May 11, 1 p.m.: Trojans trounce host Mid-Atlantic Christian University of Elizabeth City, N.C. 20-2.
May 11, 4 p.m.: Trojans defeat Apprentice, 6-1.
May 11, 7 p.m.: VSU closes the deal with a 9-6 win over Apprentice.
With victory came the spoils. VSU's first team All South Atlantic picks were shortstop Tahraun Hammond (from Tappahannock), pitcher Cole Spain (Prince George), and outfielder Ricky Jones (Hopewell).
Second team Trojans were pitcher Nick Woolfolk (Thomas Jefferson/Richmond) and catcher Dawsyn Hock (Hopewell).