Award-winning author Dawnie Walton at VCU library
11/3/2022, 6 p.m.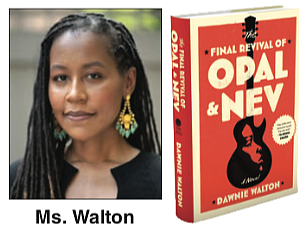 Author Dawnie Walton will read from and discuss her debut novel, "The Final Revival of Opal & Nev" on Nov.10 at 7p.m. at the James Branch Cabell Library, Room 303, 901 Park Ave.
The book, which explores identity, place and the influence of pop culture, was chosen as the winner of the 2022 VCU Cabell First Novelist Award from nearly 200 submissions. In addition to the Cabell award, Ms. Walton's book won the 2022 Aspen Words Literary Prize, and was named one of the best books of 2021 by The Washington Post, NPR, Esquire, and former President Obama. The audio book version of the novel also won the 2022 Audie Award for Fiction.
The in-person event is free and can be live-streamed. Registration is required to attend the event in person or online by visiting www. support.vcu.edu/event/Novelist
For questions or accommodations, please contact the VCU Libraries Events Office at rbpander@vcu.edu or (804) 828-0593.