Healing through humor
Debora Timms | 11/17/2022, 6 p.m.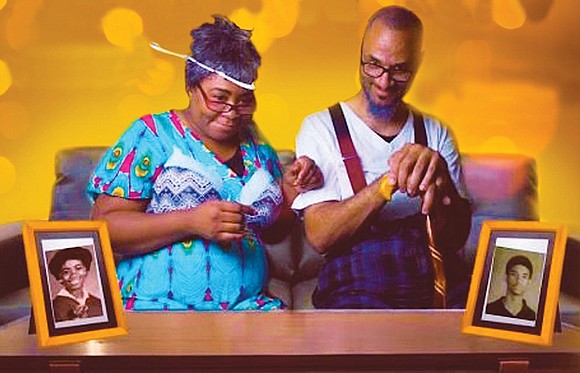 Every year millions of children are exposed to family and domestic violence in the United States. Domestic violence affects both physical and mental health, leaving emotional scars that have long-lasting effects on those who experience it directly and those who bear witness to it.
Playwright C. Michelle Lee-Robinson addresses this in her play, "Not the Man I Married," being presented this Saturday by CMR Impact Productions at the Trinity Family Life Center on Dill Road.
"Not the Man I Married" is based on a dysfunctional family that has endured years of domestic violence. The play, featuring Ms. Lee-Robinson, Mario Booker, Tandylyn Cooke and Sabrina Smith, uses comedy and laughter to address the traumas of domestic violence — traumas, which Mrs. Lee-Robinson says are linked to the current cycle of mental health, suicide and rising crime.
"We tell our kids to 'do as I say and not as I do,' but I don't know if we really think about how our kids' mirror what they see and mimic what we do," Mrs. Lee-Robinson said in a recent phone interview.
"So many youths are going through this in their homes. I want to shine a light so that parents can think, 'If this is what is happening to me, if this is what I'm doing then how is it affecting my children?'"
Mrs. Lee-Robinson says some of her own life experience is reflected in what she writes and why she writes it.
"My mother was emotionally abusive," she explained. "I repeated that cycle with my family. That's the scary part — that hurt people, hurt people.
"The play is serious, but it's like a rollercoaster. You can't just go up, up, up," she added. "I want the humor to soften the downs. Give people something to smile about, to laugh through the pain, hurt and misunderstandings."
She also hopes the play will encourage parents to talk to their children.
"I lost my sister 10 years ago to domestic violence and it came as a surprise," Mrs. Lee-Robinson said. "There were warning signs but we never asked the questions."
Such talks are especially important within the black community where there is a culture of "what happens in the home, stays in the home."
Trinity Family Life Center is located at 3601 Dill Rd., Richmond. Tickets are $25 in advance through Eventbrite or $30 at the door.