Manchester's Bacot guards the family business
Fred Jeter | 11/23/2022, 6 p.m.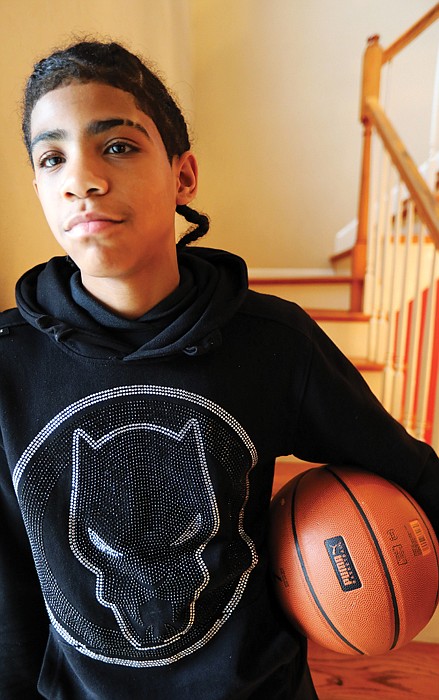 Introducing King Bacot. He's got the name and he's got the game.
Bacot, 12, a sixth-grader at Manchester Middle School, has become a YouTube sensation with his jaw-dropping skill set.
Most of the rating services have the 5-foot-9 nearly ambidextrous guard rated No. 1 or near that for the high school Class of 2029.
It's not too surprising when you consider his bloodline.
Bacot's older brother, 6-foot-10 Armondo Bacot Jr., led the University of North Carolina to the NCAA finals and is considered one of America's top collegiate players.
King's older sister, Azhane, is a 6-foot senior on the Virginia State University women's basketball squad. She is a former standout at Highland Springs High.
There's a story behind his first name, too. "He was named after Lebron James, the King," said King's father, Armondo Sr. The youngster plans to play this season for the Manchester Middle Majestic Lions, a perennial powerhouse among Chesterfield County's middle schools.
He will continue into the spring and summer with Team Loaded.
Beyond that, here's what Mr. Bacot says: "King will probably follow in Armondo's footsteps. ... he's going to Trinity ... then perhaps to IMG Academy ... and I think North Carolina (Tarheels) is about to offer."
Armondo Jr. led Trinity Episcopal in South Richmond to the state Independent Schools title and transferred to IMG Academy in Florida as a senior.
Last winter, Armondo Jr. made All-ACC and helped UNC to the finals of the NCAAs. Along the way he set a record with double- doubles in all six playoff games.
MMS has some big-name ballers on its alumni list.
Megan Walker played for the Lions before going on to fame at Monacan High, the University of Connecticut and in the WNBA.
Other former Lions are Robert Johnson, who went on to star at L.C. Bird, Benedictine and Indiana University, and current John Marshall High standout Dennis Parker, who is headed to North Carolina State.