Art in Literature award recognizes civil rights activist
10/6/2022, 6 p.m.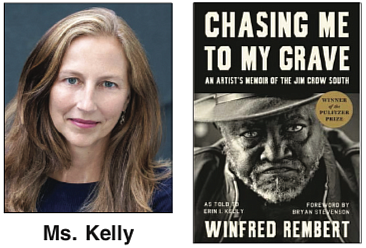 Erin I. Kelly and Winfred Rembert are the latest winners of the annual Art in Literature: The Mary Lynn Kotz Award, for their book "Chasing Me to My Grave: An Artist's Memoir of the Jim Crow South."
The book's selection recently was announced by the Library of Virginia and the Virginia Museum of Fine Arts.The book is a collaborative biography and memoir of Mr. Rembert's life, from his part in the Civil Rights Movement to his time in prison, and was created through interviews with Ms. Kelly from 2018 to 2020 and Mr. Rembert's art.
Mr. Rembert, who first met Ms. Kelly in 2015 as he sought help in sharing his life story with the world, died in 2021.
Both authors will be recognized on Friday, Oct. 14, at the Virginia Museum of Fine Arts, and on Saturday, Oct. 15, during the Library of Virginia's 25th Annual Literary Awards Celebration.