Culinary historian Michael W. Twitty is LVA's literary awards speaker
9/15/2022, 6 p.m.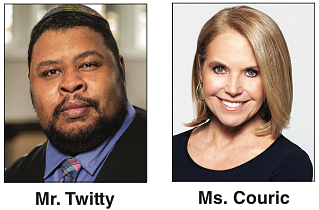 James Beard award-winning author and culinary historian Michael W. Twitty will be the featured speaker during the Library of Virginia's 25th Annual Literary Awards Celebration on Oct. 15.
The event, to be hosted by best-selling Virginia author Adriana Trigiani, will be preceded by three free virtual author conversations leading up to the Oct. 15 celebration.
Mr. Twitty is the creator of "Afroculunaria," the first blog devoted to African-American historic foodways and their legacies. He was named one of the 20 greatest food bloggers of all time by the online food-culture magazine and YouTube channel, FirstWeFeast.com. In August, the author of the critically acclaimed "The Cooking Gene" released his latest book, "KosherSoul," which explores foods and traditions of Black and Jewish culture.
The celebration also will honor Katie Couric for outstanding contributions to literature and journalism. An award-winning journalist and New York Times best-selling author of her memoir, "Going There," Ms. Couric also is the author of two children's books and "The Best Advice I Ever Got: Lessons from Extraordinary Lives." She is a co-founder of Stand Up To Cancer, which has raised more than $700 million to support cutting-edge collaborative science and its research has contributed to nine new FDA- approved therapies.
In the weeks before the event, the library will offer free virtual conversations featuring literary award finalists in three different genres. These conversations will be accessible through the Library of Virginia's Facebook and YouTube pages.
Each panel will take place from 6 -7:30 p.m., Sept. 28 - Virginia author Brian Castleberry will moderate a discussion with fiction award finalists Jocelyn Nicole Johnson, Joanna Pearson and Sheri Reynolds.
Oct. 6 - Virginia author and executive director of the James Madison University's Furious Flower Poetry Center Lauren Alleyne will moderate a discussion with poetry award finalists Sandra Beasley, Rita Dove and Tina Parker.
Oct. 12 - Host of "The Stacks" podcast Traci Thomas will moderate a discussion with nonfiction award finalists John Woodrow Cox and Carolyn Eastman.
For information on tickets, past winners and finalists, or ways to support the 25th Annual Library of Virginia Awards Celebration, visit https://www.lva.virginia.gov/public/litawards/sponsorship.htm or call (804) 692-3592.