Donald 'Cisco' Ross, former Armstrong High, VCU star, dies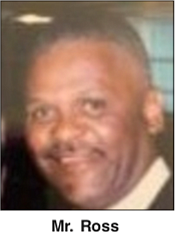 Donald "Cisco" Ross Jr., a former Armstrong High and VCU basketball standout, died Tuesday, Sept. 27, 2022. He was 74.
Mr. Ross played at Armstrong under Max E. Robinson and at VCU under coaches Ed Allen and Benny Dees.
He was extremely popular around town. At any bus stop, barber shop, department store or gym, everyone knew "Cisco" even if they weren't sure of his full name.
While an Armstrong Wildcat, Ross helped lead his team to the finals of the National Negro Tournament in Chattanooga, Tenn.
From Armstrong, he enrolled at Cleveland State where he played his freshman season under revered Hall of Fame Coach John McLendon.
After transferring to VCU (then called Richmond Professional Institute), the 6-foot guard scored a still-school record 55 points in a Rams loss at Old Dominion in 1968, under Coach Allen.
A dynamic ball-handler, he averaged more than 30 points in 1967-1968 when the Rams were playing under the NAIA umbrella.
Mr. Ross also played the 1969-70 season at VCU under Coach Dees, but a back injury limited his effectiveness.
He was eligible for the 1970-71 season, under new Coach Chuck Noe, but stepped down due to the injury.
As one of the first Black players at RPI/VCU, Mr. Ross was also involved in recruiting new players. He played a large role luring Charles "Jabo" Wilkins to VCU.
And in the spring of 1970, Mr. Ross organized a recruiting party on campus that led to the signing of Jesse Dark, Bernard Harris, Greg McDougald, Dave Edwards, Howie Robinson and Reggie Cain.
Some suggest that weekend signaled the start of "big time basketball" at VCU.
"They asked me to throw a party, so I threw a party they would never forget," Mr. Ross told the Free Press several years ago.
Mr. Ross' father, the late Donald Sr., was a standout at Virginia Union University where he earned All-CIAA honors. It was Donald Sr. who first earned the nickname "Cisco" (from the "Cisco Kid" TV series.)
His son, the late Donald III, grew up in the Washington D.C. area and went on to become one of the all-time best 3-point shooters at George Mason University.
Mr. Ross is survived by his wife, Annie Ross, and sister, Donna Ross.