Personality: Laura Coleman
Spotlight on board president of the Next Move Program
10/27/2022, 6 p.m.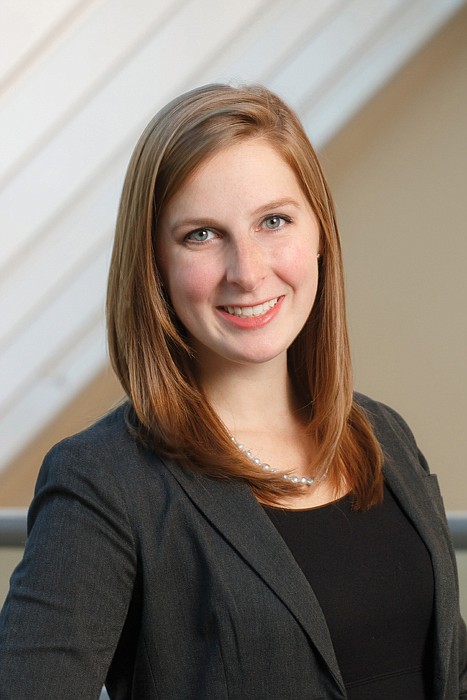 Laura Coleman knows firsthand the challenges of managing a disability, and the need for a world that fully embraces and empowers those who live with disabilities.
As a child, Ms. Coleman was diagnosed with ADHD and dyslexia. She often sought to hide her conditions while navigating obstacles they created in her education and life.
When her daughter Abigail was diagnosed with Beckwidth-Wiedemann syndrome and primary ciliary dyskinesia in 2017, however, Ms. Coleman began a new approach to caregiving and instruction.
In 2019, she reached out to the Next Move Program, a nonprofit organization that partners with businesses to create guided internship and externship experiences for people between 18 to 25 years old with disabilities. She believed the organization could help her daughter avoid the same challenges she experienced, while learning to take pride in her unique strengths.
In addition to teaching young people work readiness, Next Move also provides lessons in social skills that help them build confidence, build relationships and prepare them to lives of greater independence, according to its website.
Impressed with the organization, Ms. Coleman soon joined its efforts and became board chairperson in 2021.
"The mission and future vision is something that resonates deeply with me," says Ms. Coleman when asked why she accepted the role in 2021. "Richmond is my community and I am proud to be a small part of an outstanding group making a difference in the lives of adults with disabilities."
As board president, Ms. Coleman's focus in securing long-term funding to expand the services and growth of Next Move. The sheer number of ideas and potential goals, along with the work and resources needed to see them through, is a challenge, but Ms. Coleman is resolute in her hopes for Next Move's future.
Meeting the challenges of this goal and this challenge, fortunately, seem to share some of the same solutions, Ms. Coleman says. She emphasizes the importance of growing community awareness of the nonprofit's work and its services, as well as establishing new internships and fundraising sources.
"Their grassroots effort to really dig in and build a community and a network and get funding has been phenomenal," Ms. Coleman says, "and I just would love for them to grow their team, to be able to offer more services and not have to worry about the monthly bills that they have to pay for and just be able to really give back to the community."
"When they can, as they do every day, it's amazing."
Ms. Coleman's work with Next Move extends outside her current role as board president. She also serves as the co-founder of the Rise Employee Resource Group for Altria employees and families living with disabilities.
Rise partnered with Next Move in 2020 for a virtual job shadowing program with Richmond students, enabling the nonprofit to maintain its commitment to giving its students work readiness and social skills that helps them gain and keep employment.
It's this kind of opportunity that Ms. Coleman sees as key to Next Move's part in the community. Even as she hopes to see more growth for the nonprofit in the future, her respect and admiration for the work it's done so far is clear.
"It's a phenomenal organization that has really built something from the ground up that I wish we had more of," says Ms. Coleman of Next Move's work. "I see so much value to the community and I wish they had a bigger team. They are small and mighty for all that they accomplish."
Meet an advocate for those with disabilities and this week's Personality, Laura Coleman:
Volunteer position: Board president, Next Move Program.
Date and place of birth: June 28 in Fairfax.
Where I live now: Richmond.
Occupation: Senior manager, operations logistics indirect materials purchasing.
Education: Bachelor's degree, Virginia Tech, and MBA, University of Richmond.
Family: Husband David, Abigail (5), Nicholas (9 months)
Next Move Program founders: Mary Townley and Elizabeth Redford.
Why I became involved with Next Move: I have a learning disability and have always tried to hide that. My daughter has two rare genetic conditions, and she was my catalyst for reaching out to next move. I don't want her to experience the same challenges I have, and want her to grow up proud of her unique strengths that make her special.
Why I accepted position as the board president: The mission and future vision is something that resonates deeply with me. Richmond is my community and I am proud to be a small part of an outstanding group making a difference in the lives of adults with disabilities.
Number one goal as board president: Secure funding long term to allow for future growth and expanded services.
Strategy for achieving goals:
• Growing monthly cookie club subscriptions
• Engaging with the community to establish new internship programs and generate consistent revenue sources.
• Getting the word out about this amazing organization!
Next Move's No. 1 challenge: Too many amazing ideas and goals, which requires additional resources and funds.
How we plan to meet it: Fundraising through capable campaign, the great RVA bake- off, cookie club and educating the community on the importance of this nonprofit.
Most important accomplishment: Opening the Tablespoons Bakery in October 2021! This facility has created a central place to host internships, create jobs, expand services provided to students, interact with the community, and "bake" a difference one cookie at a time!
How Next Move reaches Black and Brown communities: Providing internship opportunities through Richmond Public Schools and partnering with the YMCA.
Next Move partners with: Altria, Richmond Public Schools and Capital One.
Ways to get involved with Next Move: Join The Cookie Club! Support Tablespoons Bakery. I like to stop and pick up treats for my team on my way to work.(It is a) great place for hanging out on the weekend and enjoying coffee and a breakfast treat. It is a place where we celebrate the potential of young adults with developmental disabilities to achieve and succeed. Our baking program gives them the chance to do just that. It is located at 1701 Westover Hills Blvd. Donations are always an amazing and tax-deductible way to support as well.
Upcoming events: Our first "The Great RVA Bake-Off" is Nov. 19 from 12 noon to 2 p.m. at 1707 Westover Hills Blvd. It is just like "The Great British Bake-Off" on Netflix, but with local Richmond celebrities and our own Tablespoons' Cookie Crew.Tickets may be purchased on the website: www.tablespoonsbakery.com and sponsorship opportunities are available. Or contact Suzanne Burns at suzanne@humblehavenyoga.com
How I start the day: Big morning snuggles from my family.
A perfect day for me is: Eating my way through Richmond!
Something I love to do that most people would never imagine: Shooting clay targets; my husband and I met on the Virginia Tech Clay Target Team.
My friends describe me as: Patient, caring, fun.
At the top of my "to-do" list: Planning a trip! We love to travel and explore.
Best late-night snack: Oreos.
Best thing my parents taught me: Caring for others.
Person who influenced me the most: My reading specialist in second grade. She was the only person outside of my parents that believed I could graduate high school and (do) so much more. She showed belief in me and that changed my entire future.
Book that influenced me the most: "The Giving Tree" by Shel Silverstein.
What I'm reading now: Reading time is limited, but I love a good podcast! "Crime Junkie Podcast" is my choice at the moment.
Next goal: Continuing to grow myself and setting a good example for my children through volunteering and giving back to the community.