'I cannot mourn'
Former colonies conflicted over the queen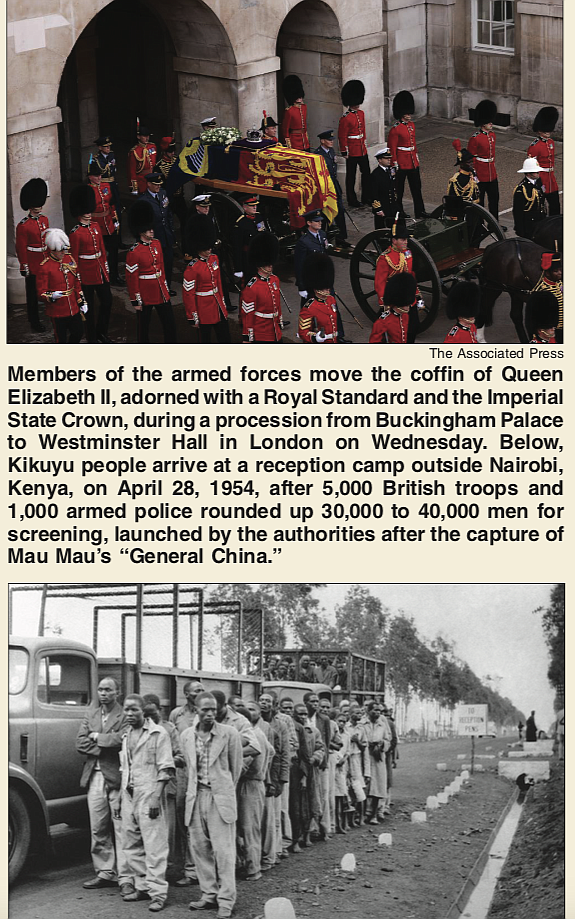 NAIROBI, Kenya - The coffin of Queen Elizabeth II, who died Sept. 8, left Buckingham Palace for the last time Wednesday, borne on a horse-drawn carriage and saluted by cannons and the tolling of Big Ben, in a solemn procession through the flag-draped, crowd-lined streets of London to Westminster Hall. There, Britain's longest-serving monarch will lie in state for the world to mourn.
The queen will lie in state for four days until her funeral Monday, with hundreds of thousands of people expected to file past. Eight pallbearers carried the oak and lead-lined coffin into Westminster Hall, placing it on a raised platform known as a catafalque.
Long after the queen's funeral, her death, as did her life on the throne, likely will continue to bring complicated feelings, included anger.
Upon taking the throne in 1952, Queen Elizabeth II inherited millions of subjects around the world, many of them unwilling.
Beyond official condolences praising the queen's longevity and service, there is some bitterness about the past in Africa, Asia, the Caribbean and elsewhere. Talk has turned to the legacies of colonialism, from slavery to corporal punishment in African schools to looted artifacts held in British institutions. For many, the queen came to represent all of that during her seven decades on the throne.
In Kenya, where decades ago a young Elizabeth learned of her father's death and her enormous new role as queen, a lawyer named Alice Mugo shared online a photograph of a fading document from 1956. It was issued four years into the queen's reign, and well into Britain's harsh response to the Mau Mau rebellion against colonial rule.
"Movement permit," the document says. While over 100,000 Kenyans were rounded up in camps under grim conditions, others, like Ms. Mugo's grandmother, were forced to request British permission to go from place to place.
"Most of our grandparents were oppressed," Ms. Mugo tweeted in the hours after the queen's death Thursday. "I cannot mourn."
But Kenya's outgoing president, Uhuru Kenyatta, whose father, Jomo Kenyatta, was imprisoned during the queen's rule before becoming the country's first president in 1964, overlooked past troubles, as did other African heads of state. "The most iconic figure of the 20th and 21st centuries," Uhuru Kenyatta called her.
Anger came from ordinary people. Some called for apologies for past abuses like slavery, others for something more tangible.
"This commonwealth of nations, that wealth belongs to England. That wealth is something never shared in," said Bert Samuels, a member of the National Council on Reparations in Jamaica.
Queen Elizabeth's reign saw the hard-won independence of African countries from Ghana to Zimbabwe, along with a string of Caribbean islands and nations along the edge of the Arabian Peninsula.
Some historians see her as a monarch who helped oversee the mostly peaceful transition from empire to the Commonwealth, a voluntary association of 56 nations with historic and linguistic ties. But she was also the symbol of a nation that often rode roughshod over people it subjugated.