Thomas Jefferson's dominant offense creates winning brand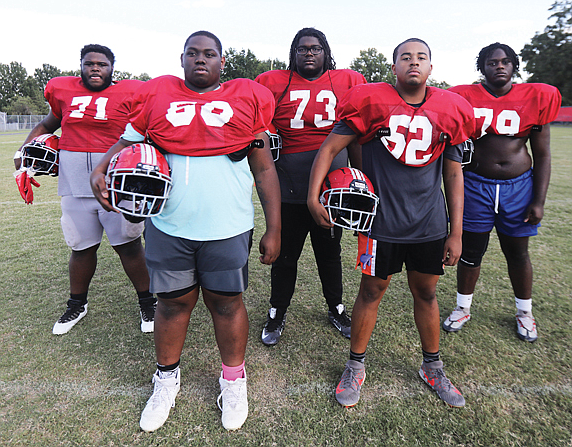 They sure grow 'em big in Richmond's West End.
Don't let Thomas Jefferson High School's tiny Class 2 enrollment fool you. The Vikings' massive offensive line could pass for a mountain range – a mobile mountain range, that is.
"I rarely get touched," said TJ quarterback Quinton Wallace, marveling at the XXL-sized bodyguards who help keep his joints safe and his uniform clean.
Second-year Coach Josef Harrison put it like this:
"Yeah, they're big. Yeah, they're physical. And yeah, they can get to the next level (meaning blocking downfield)."
Shoulder to shoulder, they create lots of shade on a sunny day.
TJ's "300 Frat" includes 6-foot-5, 340-pound Timarion "T-Rex" Venable, 6-foot-4, 325-pound Zavier "X" Artis and 6-foot-2, 320-pound Jaden Goodwin, who answers to "Pops" even though he's just 18.
"Pops sets the tone and when he gets his hands on an opponent, he's going to dominate them."
Goodwin's goals include leading the team in "Pancakes," which means slamming defensive players flat on their backs.
Rounding out the burly blocking unit is 5-foot-10, 190-pound center Deon Wright, who supplies the snaps as well as plenty of crackle and pop to the party. Alternating guards are Corey Winston (6-foot, 295) and Zyan Hill (6-foot-2, 280), both rugged competitors with college upside.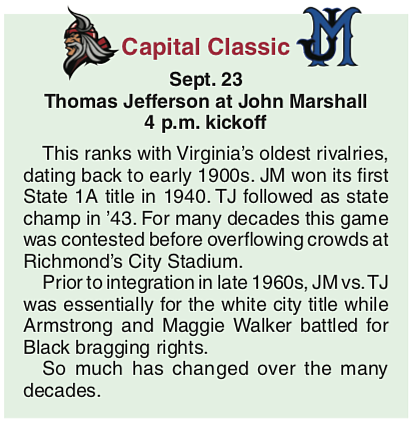 The O-Line coach is a veteran, Chris Mitchell, former TJ head coach.
Don't expect a sharp drop off next season. Only Winston and Goodwin are seniors.
The Vikings' big bodies help put up king-sized numbers on the scoreboard and a smiley face in the standings as well.
The West Enders improved to 4-0 Sept. 17 with a 20-6 decision over invading Greensville County. That followed wins over much improved Armstrong, Meadowbrook and Amelia (avenging loss in last year's Region playoffs.)
TJ plays in the second smallest (of six) Virginia High School League classification – Class 2. After the Sept. 23 crosstown match with John Marshall,
Coach Harrison's squad will take on suburban schools Deep Run, J.R. Tucker, Glen Allen and Godwin, all with at least double TJ's enrollment.
"It's not just a winning culture; it's a brand," said Coach Harrison. "We don't say we have high expectations .... We have Thomas Jefferson expectations."
This has been going on for years. The Vikings advanced to the State 2019 semifinals before losing at Stuarts Draft. They've become a regular for the postseason playoffs.
"You hear a lot about Varina and Highland Springs and how good they are – but that's Henrico County," said Coach Harrison. "We want to be that team in the City."
TJ goals include aiming for an undefeated (or near undefeated) regular season, claiming the unofficial "City championship" and making a serious run at a State 2A crown.
At this point, it would be a surprise if the Vikings don't come up big in more ways than one.