TJ's win streak keeps flying by opponents
Vikings v. Justices Friday at Hovey Field
With Rashaud Cherry's steady hands on the steering wheel, Thomas Jefferson High School has its GPS set on "all the way to the top."
The Vikings have taken off so fast you wonder if they've left patches of burned rubber along Richmond's West End roadways.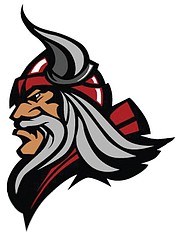 "TJ has kind of been the shine of the city in recent years ... now we'd like to take it to a state level," said Vikings first-year Coach Eric Hunter.
So far TJ has blitzed Meadowbrook 34-7, Amelia 54-12 and Greensville 64-0.
The Vikings have dominated the statistics as they have the scoreboards, accumulating 1,158 yards of equally balanced total offense (638 rushing, 520 passing).
Up next will be a 7 p.m. kickoff Friday night against John Marshall at Virginia Union University's Hovey Field.
TJ plays in Class of 3 (up from 2) in the Virginia High School's six-tiered enrollment classification. The Vikings reached the State Class 2 semifinals in 2019.
The toughest game on this regular season schedule might be when TJ travels to Short Pump on Oct. 6 to face Class 5 powerhouse Mills Godwin.
Barring a rash of injuries, TJ will likely be the favorite in every other game prior to the playoffs.
There are stars aplenty on the TJ roster, starting with the quick- silver Cherry at quarterback. At 5-foot-9 and just 155 pounds, the junior is dual threat QB capable of playing numerous positions, as he did last year.
"I consider myself an athlete first," he said, adding that he compensates for lack of size with "heart and mentality."
That athleticism so far has led to 510 aerial yards with six touchdowns, no interceptions, and no sacks. He also has run for 53 yards and two more TDs.
Cherry shares the spotlight with a quiver full of offensive weapons.
TJ has played football since the early 1900s and few Vikings have had a more productive night to their credit than senior wideout/ defensive back Torel Clark.
Against Greensville, Clark scored four TDs – two on punt returns, another of a fumble return and one on a reception.
"Our goals are to win the state championship and to have more college coaches come to our games to look at all our players," Clark said.
Carmell McCloud, already with two TD receptions, also ranks with the stingiest defensive backs. He has one interception and has yet to give up a reception in his area.
Leading the rushing attack is DaShawn Stovall with 303 yards and four TDs on only 41 carries. Known as "D'Nice," he averages 7.4 yards per carry.
"We want to leave a legacy, both as a team and individually," he said of the current edition.
TJ is no one-season wonder. The Vikings have been a consistent playoff qualifier under a series of different coaches (Chad Hornik, P.J. Adams and Harrison).
Harris was the offensive coordinator last season under Josef Harrison. TJ started last season 7-0 and finished 8-4. An injury to do-it-all All-State sensation Aziah Johnson (now at Michigan State) hampered the team down the stretch.
"We're picking up this year where we left off a year ago," Harris said.
"We had great spring and summer, and we pride ourselves in being a very physical team ... and I think other coaches will tell you the same thing."