VCU apology fails to heal wounds inflicted by MCV doctors who removed a Black man's heart
George Copeland Jr. | 9/22/2022, 6 p.m.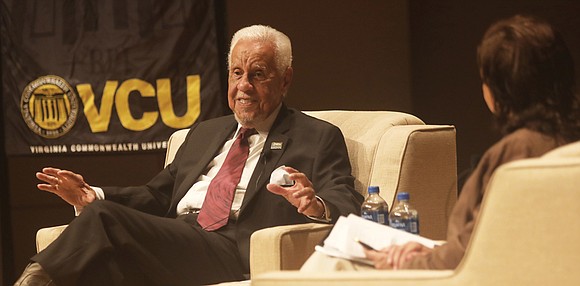 More than 50 years after a deceased Black man became an organ donor without his consent or the knowledge of his family, Virginia Commonwealth University's role in the treatment of Bruce Tucker continues to be reassessed and scrutinized by leaders inside and outside the university.
Mr. Tucker was admitted to the Medical College of Virginia in 1968 after suffering a head injury that eventually led to his death. MCV doctors then took his heart and transplanted it into a white patient, the first heart transplant in Virginia and 16th in the world according to VCU Health. The decision led to a legal and medical battle by Mr. Tucker's family.
In a Sept. 1 Richmond Free Press commentary written by Chip Jones, author of the 2020 publication of "The Organ Thieves" which explores Virginia's controversial, racially-charged first heart transplant in 1968, it was noted that VCU had not issued a public apology for MCV's deeds.
Now, more than five decades later, the university has finally apologized.
"NOW, THEREFORE, BE IT RE-SOLVED, VCU acknowledges and sincerely apologizes to the late Mr. Bruce Tucker, and to his family, for the Medical College's transplant of his heart 54 years ago," reads the Sept. 16 resolution regarding the treatment of Mr. Tucker and his family. The resolution was issued by VCU's Board of Visitors and the Board of Directors of VCU Health System Authority.
"Being devoted to inclusion means honestly facing past actions with humility and transparency," VCU President Michael Rao said in a statement. "We sincerely apologize to Mr. Bruce Tucker, his family and all of those hurt by deplorable past practices."
VCU officials also authorized the commissioning of a plaque in Mr. Tucker's honor, recognizing his role in the history of heart transplants while acknowledging that it wasn't a voluntary choice.
For former Gov. L. Douglas Wilder, however, VCU's apology and future plans to memorialize his memory weren't enough to resolve the harm done to Mr. Tucker and his family. Mr. Wilder, who represented Mr. Tucker's family when they sought legal justice, addressed the apology and their plans to memorialize Mr. Tucker during the Wilder Symposium "Racism, Health and Accountability" on Sept. 19 in the VCU Singleton Center.
The judge in the Tucker family's lawsuit against MCV dismissed the suit while the jury deliberated, Mr. Wilder said Monday. In a VCU news website article, Mr. Wilder said the judge never talked about the case after it was dismissed. Indeed, the former governor rarely mentioned the case himself.
"I never talked about it much myself because ... I knew it wouldn't help Bruce Tucker. Right now, nothing has helped Bruce Tucker; right now, nothing has helped (his son) Abraham Tucker; nothing has helped a Tucker," Wilder states in VCU's website article. "But, that still bothers me, and I think there are people who today recognize that as much as we advance society, as much as we do the kinds of things we do, unless we commit ourselves to ridding race and racism from our society, we're going to have trouble."
Regarding VCU's apology, Mr. Wilder, who was elected Virginia's first Black governor in 1989, did not mince his words.
"Did leadership have to wait a few days before this event to show further disrespect?" Mr. Wilder said. "I can only imagine what Abraham Tucker, son of Bruce Tucker, must be feeling at his public display of fake remorse."
During the symposium, Mr. Wilder, a distinguished professor in the Wilder School (named after him), also noted VCU's remaining racially-tinged issues.
From concerns raised by VCU's Black Education Association about the high rate of turnover among African-American faculty to the increasing cost of tuition, Mr. Wilders said that such issues can't be solved with simple statements and memorials.
"What is being done now, not talked about, to address the continuing issues of race and racism by the present leadership at VCU?" Mr. Wilder asked. "What has the leadership at VCU demonstrated as an apology for this barbaric act and the continuance thereof?"
Later, during a question-and-answer session, Mr. Wilder dismissed the idea that authorities at the time, from the police investigating Mr. Tucker's disappearance to the judge and jury who were involved in the legal case, share the blame for the trouble Mr. Tucker's family faced in seeking answers and justice.
Ultimately, he stressed the need for impactful, material solutions and accountability from VCU for Mr. Tucker's treatment, rather than insubstantial words and works.
"I think one of the first things to do is not to lament the fact that it happened," Mr. Wilder said, "but to make amends for it, demonstrably."
Editor's note regarding MCV and VCU Health: In July 1, 1997, the operations, employees and obligations of MCV Hospitals (formerly a division of VCU) were transferred to the Medical College of Virginia Hospitals Authority. Three years later, the MCV Hospitals Authority became the Virginia Commonwealth University Health System Authority. The clinical activities of MCV Hospitals, MCV Physicians and the VCU School of Medicine are now coordinated and integrated by and through VCU Health, according to Virginia.gov.