Trump charged with 34 felony counts in hush money scheme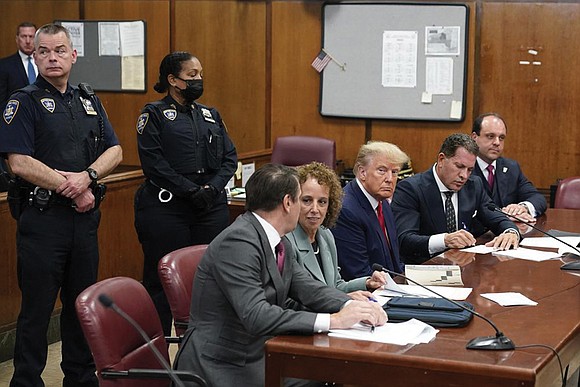 NEW YORK - A stone-faced Donald Trump made a momentous courtroom appearance Tuesday when he was confronted with a 34-count felony indictment charging him in a scheme to bury allegations of extramarital affairs that arose during his first White House campaign.
The arraignment in a Manhattan courtroom was a stunning — and humbling — spectacle for the first ex-president to ever face criminal charges. With Mr. Trump watching in silence, prosecutors bluntly accused him of criminal conduct and set the stage for a possible criminal trial in the city where he became a celebrity decades ago.
The indictment centers on allegations that Mr. Trump falsified internal business records at his private company while trying to cover up an effort to illegally influence the 2016 election by arranging payments that silenced claims potentially harmful to his candidacy. It includes 34 counts of fudging records related to checks Trump sent to his personal lawyer and problem-solver to reimburse him for his role in paying off a porn actor who said she had an extramarital sexual encounter with Trump years earlier.
"The defendant, Donald J. Trump, falsified New York business records in order to conceal an illegal conspiracy to undermine the integrity of the 2016 presidential election and other violations of election laws," said Assistant District Attorney Christopher Conroy.
Mr. Trump, somber and silent as he entered and exited the Manhattan courtroom, said "not guilty" in a firm voice while facing a judge who warned him to refrain from rhetoric that could inflame or cause civil unrest. All told, the ever-verbose Mr. Trump, who for weeks before Tuesday's arraignment had assailed the case against him as political persecution, uttered only 10 words in the courtroom. He appeared to glare for a period at Manhattan District Attorney Alvin Bragg, the prosecutor who brought the case.
As he returned to his Florida estate, Mar-a-Lago, where he delivered a primetime address to hundreds of supporters, Mr. Trump again protested his innocence and asserted on his Truth Social platform that the "hearing was shocking to many in that they had no 'surprises,' and therefore, no case."
In his speech, Mr. Trump lashed out anew at the prosecution and attacked in bitter terms the prosecutor and the judge presiding over the case despite being admonished hours earlier about incendiary rhetoric. In a sign of that other probes are weighing on him, Mr. Trump also steered his speech into a broadside against a separate Justice Department investigation into the mishandling of classified documents.
"I never thought anything like this could happen in America," Mr. Trump said of the New York indictment. "This fake case was brought only to interfere with the upcoming 2024 election and it should be dropped immediately."