Noah Lyles, Sha'Carri Richardson and lots of unknowns as track gets ready for Paris Olympics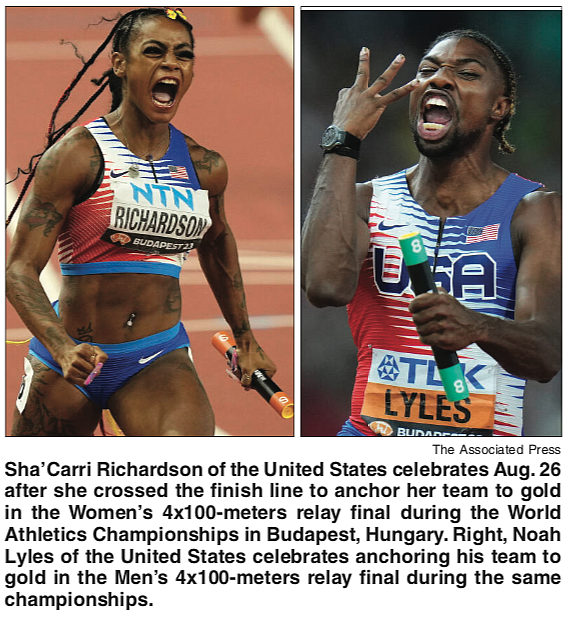 BUDAPEST, Hungary - In some ways, track and field served up a tantalizing preview of what's to come next year at the Paris Olympics.
In others, the sport left the nine-day world championships with as many questions as answers.
For every Noah Lyles and Sha'Carri Richardson, athletes who won championships and declared themselves the sprinters to beat, there was a Sydney McLaughlin-Levrone or Elaine Thompson-Herah, defending Olympic champions who either didn't show up or barely showed up at all.
There were a handful of champion track and field athletes who were not heard from, or were far from the top of their form, in Budapest but should be competing for title, starting in 340 days when the Olympic track meet starts in the Stade de France.
A quick rundown of some takeaways from Hungary and things to watch in next year in France:
Noah Lyles
One of Lyles' takes in the euphoria of his win in the 200 meters — part of his 3-for-3 performance in the sprints — was how track is one of those true international sports, while the NBA, for instance, is not.
"I watch the NBA Finals and they have 'world champion' on their head. World champion of what? The United States?" Lyles said. "Don't get me wrong. I love the U.S. — at times — but that ain't the world."
Some of the NBA's best players scoffed. If Lyles can push track back to the popularity it enjoyed in the 1980s, or even during Usain Bolt's reign from 2008-17, he might resonate the way an NBA star does. The real push, however, doesn't come at worlds, it comes at the Olympics.
Sha'Carri Richardson
Richardson proclaimed "I'm not back, I'm better," and she backed it up by winning the 100 in her first major championship.
She beat two of Jamaica's best sprinters in five-time champion Shelly-Ann Fraser-Pryce and Shericka Jackson, who is also threatening the world record in the 200.
Missing from that field was Thompson-Herah, the two-time defending Olympic champion in the 100 and 200. Thompson-Herah will be 32 next year, but she saves her best for the biggest stage. Richardson will be 24.
Hurdle hype
McLaughlin-Levrone will be at the Olympics, though it's still anybody's guess as to which event she'll run.
Will she try to defend her title in the 400-meter hurdles, where she holds the world record? Or will she go for the 400 flat, which she had been running through 2023 before a minor knee injury took her off the track.
Curious about all this is Femke Bol of the Netherlands, who put on quite a show in Budapest in McLaughlin-Levrone's absence.
More hurdles
The women's 100 hurdles might just be the most unpredictable event in track.
Take Danielle Williams, for instance. The Jamaican hurdler won the event as a heavy underdog to add this gold to her one from 2015.
"You could pick like four or five" people who can win any race, Williams said.
At the Olympics, it's even more difficult to predict. Remem- ber Lolo Jones? There has never been a repeat champion in the event, which doesn't bode well for Puerto Rico's Jasmine Camacho-Quinn, the runner-up in Budapest.
What's more, only Sally Pearson has followed a win at worlds with an Olympic title.
"I like being on the outside, all eyes being on everyone else, and just me being able to do my thing," Williams said.