Personality: Zenobia Cardwell
Spotlight on founder of 125 Black Women at Boushall Middle School
2/23/2023, 6 p.m.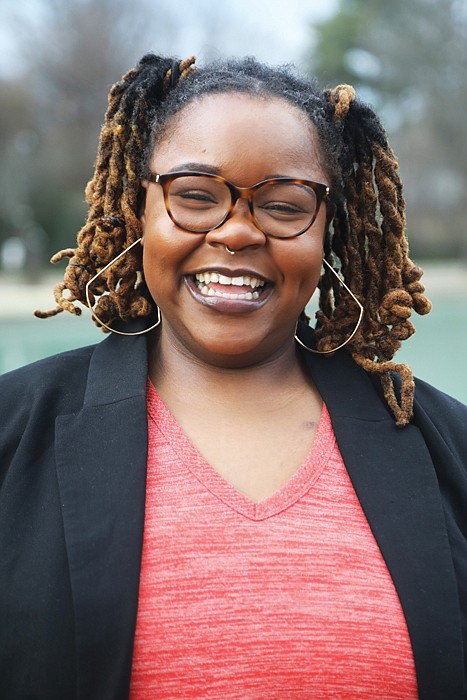 Zenobia Cardwell says she always has been active and involved in the community, so much so that she won the School Spirit Award her senior year as a student in the International Baccalaureate Program at Thomas Jefferson High School.
One of her most memorable and significant opportunities, she says, was becoming part of the Mayor's Youth Academy when the Rev. Dwight C. Jones was the mayor of Richmond. She says the experience shaped her leadership skills.
"I learned about how the city operates and spent lots of time with Mayor Jones," she recalls. "The experience shaped and molded me, and pushed me to be involved with the city and our arts community here."
These days Ms. Cardwell uses her leadership skills as the executive administrator for Key Independent Development Services, an organization that provides mental health services to assist children, adolescents and adults.
She calls herself the "Fun Captain," and enjoys planning activities for her clients. "I tell my clients,'whatever we do, we're gonna have fun!'" she said. And the biggest reward she receives, she said, is when her clients tell her "thank you," because she is always looking to make their experiences memorable and rewarding.
Giving back and creating memorable experiences are what motivated Ms. Cardwell to start 125 Black Women last year at Thomas C. Boushall Middle School. While working as a behavior aide for a young male student, Ms. Cardwell says she saw herself in the school's young women and wanted to help them face their challenges.
In the last week of March, 25 Black women gather at the middle school each day to greet all of the students as they start their day. Twenty-five women over the course of the week adds up to 125, which is how Ms. Cardwell came up with the name of the group. The group reminds the girls they are supported and can become or achieve anything they desire.
The women volunteers are identified through word of mouth, social media, sororities and friends of friends.
"Word got around and people showed up for me last year," she said, "and I'm pray- ing for the same turnout this year because I want it to be bigger and better."
Meet the "Fun Captain" and this week's Personality, Zenobia A. Cardwell:
Volunteer position: Founder of 125 Black Women, a nonprofit event based at Boushall Middle School.
Occupation: Executive administrator for Key Independent Development Services – Adult Day Support.
Date and place of birth: Aug. 2 in sunny Las Vegas.
Where I live now: South Side Richmond.
Education: Thomas Jefferson High School; attended Old Dominion University.
Family: Family to me is anyone you carry in your heart with love. I happen to carry several people but the most important people in my life are my mother, Scholar, my dad, Yule and sister Zippora.
125 Black Women is: A non-profit, weeklong event I started through H4 Cares, which serves as the nonprofit division of my business H4 Creative Firm.
When and why founded: I started H4 Cares and 125BW in 2021 while working in the school system. I noticed how a simple "Good Morning" or "Have A Good Day!" with a smile could shift the day of a middle schooler who may not have made contact with anyone else that morning. We, as Black and Brown Women from across Richmond, gather to shift that morning TOGETHER while creating a village to care for through Boushall and while representing our community in Richmond.
Significance of name: Originally, I wanted to have 25 women each school day for the week. Twenty-five women for five days equated to 125 Black Women. It just sounded melodic and strong. What middle school girl WOULDN'T want 125 of Richmond's fiercest Black and Brown Women to have their back?
Upcoming event: Monday, March 27- Friday, March 31, 2023, 7:30 a.m. to 8:30 a.m. at Boushall Middle School.
Who participates: Black and/or Brown women of influence in the Richmond area.
Ways to get involved: The registration link can be found on my website h4cfllc.com under the H4 Cares page.
Participants can expect: High energy with the theme "Renaissance," in celebration of Beyonce's Grammy award-winning album, but also building connections with our middle schoolers, more importantly our middle school girls. I always lead with love and loads of personal- ity and that seems to rub off in all the right ways!
A perfect day for me is: I am a woman who enjoys good pampering, music and food. I would start my day with my hair, nails and other self-care appointments that are all on time so I wouldn't be late for the next. I would have a really good Chicken Caesar salad for lunch and I would go home and nap for a few hours. Then I would wake up, find an amazing, avant-garde, yet urban streetwear look from my closet, create a flawless makeup look, and I would be off to dinner and drinks with my friends and end my night at a concert with some of my favorite local rappers and singers.
Something about me that people may not know: I am a huge Youtube nerd. I love the Mojo Channels, Grunge, Toon- rifiq Tariq and Primm's Hood Cinema. I love historical pop culture facts and those channels keep me entertained with facts and reviews.
A quote that inspires me: "You can tell I move with sovereignty, obviously/I'm an anomaly, every bar I spit's a novelty" from "EAT" by Tobe and Fat Nwigwe.
My friends describe me as: This is the text I got back when I asked one of my very close friends, "You are a driven dreamer. When you have a true passion for something you do everything necessary to master it and make it profitable whether fiscally, emotionally, or spiritually. It's truly all or nothing with Zenobia."
At the top of my "to-do" list is: Pray. Every day.
Best late-night snack: I love Rap Snacks, specifically Minos Bar-B-Quin' With My Honey with a Dab of Ranch Chips, A Nutty Buddy and an Island Breeze Clear Fruit.
The best thing my parents ever taught me: From dad — "You never give up. Even when they want you to." From mom — "Remember who you are and whose you are."
The person who influenced me the most: My sister, Zippora. She is a recent double degree graduate in the engineering field from Norfolk State University, an HBCU. As a Black female engineer in the field of STEM, she represents only 2 percent of the industry. She inspires me with her knowledge, but also her poise and strength. It isn't easy being the only person that looks like you in a room and she does it with a certain confidence that can't be taught or sold in a workshop.
Book that influenced me the most and how: The "Journals" Collection by Ayo M. Morton. It's a two-part series that influenced me because it integrated two of my loves, hip-hop and reading. The way the author takes song lyrics and applies them to the situations at hand with each character has had me speaking in lyrical format since I first read this book more than 10 years ago.
What I'm reading now and my takeaway: I wish I had time to read. Maybe I will add that to my list of "Adulthood things I need to try again." I would love book suggestions. I am a sucker for a good urban novel.
Next goal: Wow! What a question. My next goal is whatever God has planned for me next. He said "I know the plans I have for you," not that I would know the plans too. I think that's the beauty of life, seeing the formula everyone else has followed for life and knowing your formula already has a genius that signed off on it.