McCarthy rejected for House speaker with GOP in disarray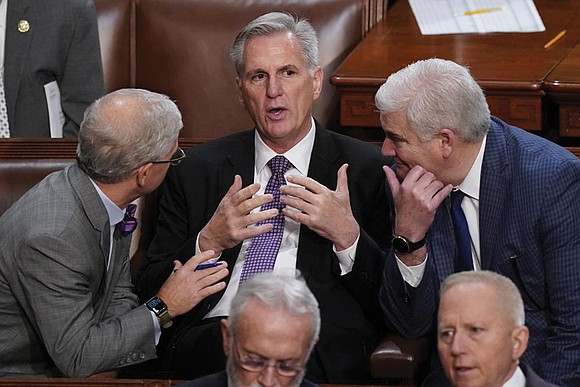 House Republicans flailed through a second day of multiple balloting Wednesday, unable to elect their leader Kevin McCarthy as House speaker or come up with a new strategy to end the political chaos that has tarnished the start of their new majority.
For a fourth, fifth and sixth time, Republicans tried to vote Mr. McCarthy into the top job as the House plunged deeper into disarray. But the votes were producing almost the same outcome, 20 conservative holdouts still refusing to support him, and leaving him far short of the 218 typi- cally needed to win the gavel.
In fact, Mr. McCarthy saw his tally slip to 201, as one fellow Republican switched to vote simply present.
Seeing no quick way out of the political stand-off, Republicans voted abruptly late Wednesday to adjourn as they desperately searched for an endgame to the chaos of their own making. They were due back at 8 p.m.
"Well, it's Groundhog Day," said Rep. Kat Cammack, R-Fla., in nominating Mr. McCarthy on the sixth ballot.
She said, "To all Americans watching right now, We hear you. And we will get through this — no matter how messy."
But the right-flank conservatives, led by the Freedom Caucus and aligned with Donald Trump, appeared emboldened by the standoff — though Trump publicly backed Mr. McCarthy.
"This is actually an invigorating day for America," said Rep. Byron Donalds, R-Fla., who was nominated three times by his conservative colleagues as an alternative. "There's a lot of members in the chamber who want to have serious conversations about how we can bring this all to a close and elect a speaker."
Mr. McCarthy, the California Republican, vowed to keep fighting despite the grueling spectacle, unlike any in modern times, that threw the new majority into tumult a day earlier. Animated private discussions broke out on the chamber floor between Mr. McCarthy supporters and detractors searching for an endgame.
The House gaveled in at noon, but no other work could be done — swearing in new members, forming committees, tackling legislation, investigating the Biden administration — until the speaker was elected.
"I still have the most votes," Mr. McCarthy said at the start of the session. "At the end of the day, we'll be able to get there."
But the dynamic proved no different from Day One, as Democrats re-upped their leader, Rep. Hakeem Jeffries, for speaker, and Donalds offered his challenge to Mr. Mc- Carthy in another history making moment.
Both Jeffries and Donalds are Black. "This country needs leadership," said Rep. Chip Roy, the Texas Republican noting the first time in history two Black Americans were nominated for the high office, and lawmakers from both parties rose to applaud.
It was the first time in 100 years that a nominee for House speaker could not take the gavel on the first vote, but Mr. McCarthy appeared undeterred. Instead, he vowed to fight to the finish.
The disorganized start to the new Congress pointed to difficulties ahead with Republicans now in control of the House.
President Joe Biden, departing the White House for a bipartisan event in Kentucky with Senate GOP leader Mitch McConnell, said "the rest of the world is looking" at the scene on the House floor.
"I just think it's really embarrassing it's taking so long," President Biden said. "I have no idea" who will prevail.