The ultimate 10
Pelé, Brazil's mighty king of 'beautiful game,' mourned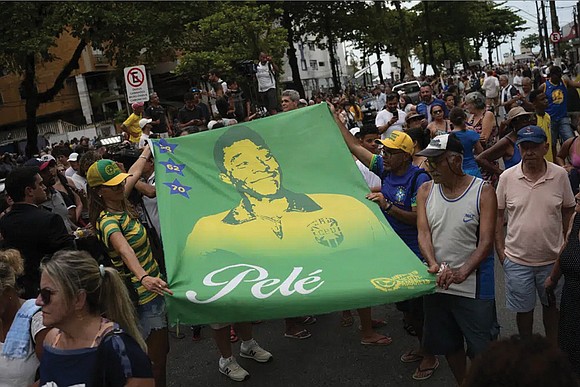 He was born Edson Arantes do Nasci- mento but came to be known and admired worldwide as simply "Pelé."
Among the most talented and popular athletes of all time, Pelé, the Brazilian soccer dynamo died Dec. 29 in Sao Paulo. He was 82 and had been in declining health for more than a year.
By age 17, he already stood out like a beacon of sunshine on the global stage, sparking Brazil to the 1958 World Cup title in Sweden.
The man who went by a single name scored a hat trick (three goals) in a semi-final win over the USSR and added two more vs. host Sweden in the final.
He was the youngest player to ever compete in a World Cup final. It would be the first of three that he helped win for his native land. He is the only player to ever compete in three World Cup championships.
The event only takes place every four years.
With "Pelé" always the main attrac- tion, Brazil also won the World Cup in 1962 in Santiago, Chile, and 1970 in Mexico City.
In a defensive-minded sport where 1-0 is a frequent final score, Pelé was a scoring machine with his wide array of talents, most famously his signature, oh-my-gosh "bicycle kick."
Competing for the Brazilian National Team, he tallied 77 goals in 92 games. With the Santos Club Team, he racked up 643 goals in 659 outings.
For his overall professional career, he is credited with a Guinness record 1,279 goals in 1,363 games.
There was never anyone like him before, nor has there been since.
The FIFA voted Pelé as the Greatest Player of All time in 2012.
In 1999, the International Olympic Committee proclaimed him the Greatest Athlete of the Century.
Kylian Mbappe, a current international star for France (hat trick in '22 World Cup Final), said this of Pelé: "His legacy will last forever."
Pelé wore jersey No. 10. It was so fitting. On a scale of 1 to 10, he was a 10 — the ultimate 10.