Antoine Davis' scoring dominance
Detroit Mercy guard nets 3,103 points as of Jan. 4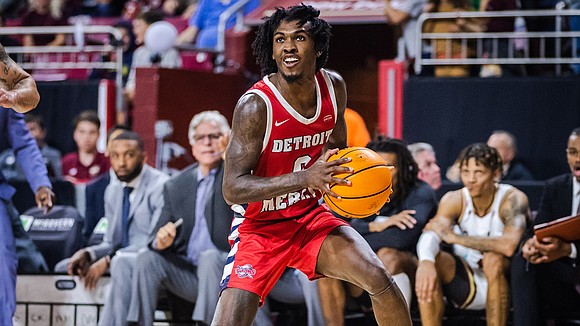 A former walk-on is likely to soon become the second leading scorer in NCAA basketball history.
And even first place—a spot held by the late Pete Maravich —remains a possibility for University of Detroit-Mercy graduate student Antoine Davis.
The 6-foot-1 son of Titans' Coach Mike Davis had 3,103 points as of Jan. 4, seventh all-time in Division I, with at least 16 games to go.
Only Maravich's other-worldly 3,667 grand total points at LSU seems beyond his considerable shooting range.
With a career average of 24.7, Davis would have to average over 30 per game the rest of the way, and tack on several post-season opportunities to challenge the iconic "Pistol Pete."
Regardless of what the NCAA record book says, Davis versus Maravich is not a fair comparison.
Playing under his father, Press Maravich, Pete scored 3,667 points in three seasons, averaging 44.2 over 83 varsity games. Freshmen were not eligible at the time.
There was no shot clock during that era, no 3-point shot and shorter schedules. Three seasons now would add up to close to 100 games.
Davis' total has come over five seasons and 127 games (as of Jan. 6). In addition to challenging for all-time scoring honors, he is likely to finish first of all time in 3-point connections.
His 492 three-ball total is now third behind Travis Bader (504 4t Oakland, Mich.) and Fletcher Magee (509, Wofford).
Davis' father, Mike, is the former coach at Indiana, Alabama-Birmingham and Texas Southern.
Antoine Davis never played in a traditional high school setting, opting for the Homeschool Christian Youth Association, based in Houston.
He originally committed to play for the University of Houston, but enrolled as a walk-on at Detroit-Mercy the same season his father began coaching there. There were no available scholarships on the 13-man limit.
Wearing No. 0, he scored 32 points in his college debut and was placed on scholarship as soon as an opening occurred the next season.
•••
When the NCAA offered student-athletes an additional season for the COVID-19 shortened 2020-21 year, it created some statistical irregularities. Among those benefitting was University of Richmond guard Jacob Gilyard. In five full seasons, the Spiders standout set the career record for steals (466), passing several four-season players.