The RAW power of women gets lifted in East End gym
Debora Timms | 1/12/2023, 6 p.m.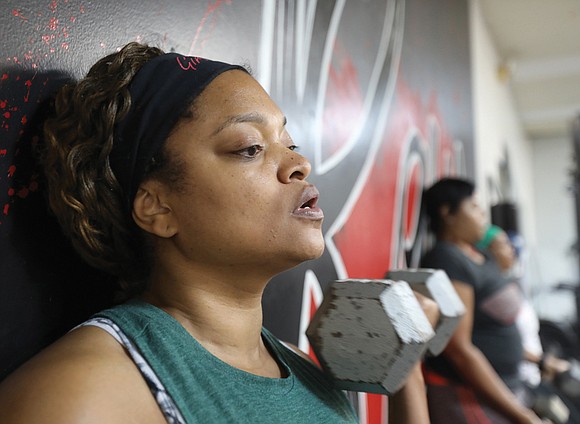 Jacqueline Evans, 60, has done it for the last four years and she loves it—even if most people are surprised to find out what it is.
"People my age think I'm going through a midlife crisis," the Richmond native said about her powerlifting passion. "But younger people think it's awesome. They are quite surprised that I can keep up or even outperform them."
The oldest member of the only all Black and Brown female powerlifting team in the Richmond area says she enjoys challenging herself. Competing took a backseat to the pandemic in 2020 and surviving a breast cancer diagnosis in 2021, but Mrs. Evans finally competed last October when she earned a trophy in her age group for bench pressing 125 pounds.
"I've never won a trophy before for anything," Mrs. Evans said about the result. "For me, it's like a childhood dream come true."
Teammate and co-captain of the RAW Powerlifters, DeAndra Lee also had a result she was proud of at that meet—a personal best deadlift of 290 pounds.
Those results are a reflection of the pair's hard work and dedication, but they also give credit to Coach Rhesa Weatherspoon, owner of Richmond area gym, RAW Affects.
Ms. Weatherspoon opened her doors in July 2018, looking to offer the community something different and more personal than larger gyms. She uses her degrees and certifications in areas including sports science, fitness training, dietary nutrition, massage, yoga and meditation to help people achieve their health and fitness goals.
"I call myself a fitness and wellness expert. I believe in taking a holistic approach. My motto is 'One Body, One Life, One Chance,'" Ms. Weatherspoon said. "I love what I do and I'm very passion- ate about it."
There are six trainers, including Ms. Lee, who work with Ms. Weatherspoon at RAW Affects to offer group classes such as dance fitness, strength, conditioning, agility and more.
"We work hard, but we have a lot of fun. We're a community here in the gym. Everybody knows everybody," says Ms. Lee. "That's a very different, unique quality for a gym. RAW Affects is one of those rarities you find."
Ms. Lee says the gym's supportive and encouraging environment is just as important as the physical, mental and emotional strength that members work on when they work out. Another important feature of the gym for her is its Black woman owner.
"That ownership allows me to see a representation of myself, which is a big deal," she says. "Rhesa gives me the motivation to keep pushing myself in the areas I want to grow in as an entrepreneur, a woman and a Black female."
"I love to rave about Rhesa," Mrs. Evans agrees.
Both women also say the powerlifting team was a big drawcard for them. Although not all of them compete, that team now has 26 women who train at RAW Affects.
"Powerlifting is a growing sport for women because women want to be stronger inside and out," Ms. Weatherspoon says, noting that strength does not mean bulk. "I'm not bulky, but I am a very strong woman."
All three women are quick to mention the importance of weight-training in building bone density, muscle tone and confidence—especially in women.
"I love to see strong women. I wish more women would do [powerlifting], or at least try it," Ms. Lee said. "When I'm training or in a competition, I feel like a such a badass."
"I learned to ride a motorcycle at 50, got my first trophy powerlifting at 60 and I'm still going," Mrs. Evans adds. "I hope to still be lifting in my 70s and 80s."
For now, several of the women are gearing up for their next competition in bench pressing and dead lifting on March 11 at Walker's Gym in Hopewell.
For more information, email rawaffects@outlook.com.