Jury awards soldier less than $4000 in federal suit over traffic stop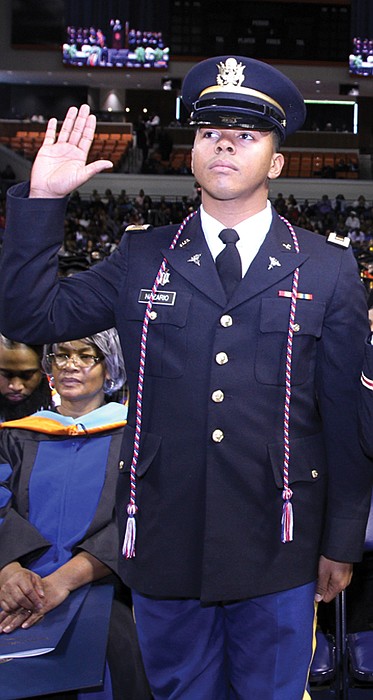 NEWPORT NEWS - A federal jury in Virginia on Tuesday found mostly in favor of two police officers who were sued by a U.S. Army lieutenant after he was pepper-sprayed, struck and handcuffed during a traffic stop.
Video of the 2020 incident in the small town of Windsor got millions of views after Caron Nazario filed the federal lawsuit, highlighting fears of mistreatment among Black drivers and raising questions about reasonable police conduct.
The jury in federal court in Richmond found former Windsor police officer Joe Gutierrez liable for assault and awarded Mr. Nazario $2,685 in compensatory damages, according to attorneys on both sides of the case.
The jury also awarded Mr. Nazario $1,000 in punitive damages after Windsor police officer Daniel Crocker illegally searched Nazario's SUV, the attorneys said. A federal judge already ruled last year that Mr. Crocker was liable for the search.
The jury found in favor of Mr. Crocker and against Nazario's claims of assault and battery and false imprisonment, the attorneys said. The jury found in favor of Mr. Gutierrez regarding the soldier's claims of battery, false imprisonment and illegal search.
"Having now heard all of the evidence and learning the full picture of this case, we believe the jury reached the correct decision," one of Mr. Crocker's attorneys, Anne Lahren, said in a statement. "In the present climate, this took a lot of courage and we thank the jury for their service."
Mr. Nazario filed his lawsuit in 2021. Video shows Mr. Crocker and Mr. Gutierrez pointing handguns at a uniformed Mr. Nazario behind the wheel of his Chevy Tahoe at a gas station. The officers repeatedly commanded Mr. Nazario to exit his SUV, with Gutierrez warning at one point that Mr. Nazario was "fixing to ride the lightning" when he didn't get out.
Mr. Nazario held his hands in the air outside the driver's side window and continually asked why he was being stopped.
Mr. Nazario also said: "I'm honestly afraid to get out."
"You should be," Gutierrez responded.
Mr. Nazario stayed in the vehicle. Mr. Gutierrez went on to pepper-spray him through the open window. Once Mr. Nazario exited the SUV, the officers commanded him to get on the ground, with Mr. Gutierrez using his knees to strike Mr. Nazario's legs, the lawsuit stated.